Sale!
The Ultimate Cheatbook 2.0 of Essay and Answer Writing for UPSC MAINS,IAS, IPS, SSC, PSC Exams
WHAT IS THE DIFFERENCE BETWEEN CHEATBOOK  AND CHEATBOOK 2.0?
Simply put, the Cheatbook 2.0 is Cheatbook 1.0 on steroids. It
is highly updated, much more comprehensive, better looking,
more effective, more graphical, and beautiful.
Insights and feedback from evaluating the essays of hundreds
of students has led me to figure out the chinks in the armor of
Cheatbook 1.0. As a result of which, the Cheatbook 2.0 contains an
enormous amount of new content and is qualitatively more enhanced
than the previous version.
A major difference is the addition of model essays and several
pieces of my own essay-writing demonstrating the various techniques
of the book in practice.
New additions to Cheatbook 2.0 include:
 Becoming an argument-ninja: How to make irrefutable arguments
and the use of LED technique.
 Dimensional Analysis technique to deal with philosophical essay
topics
 ESSELGO technique demonstrated in model essays along with
pre-writing processes.
 List of VASP Quotes and how to use them.
 How to add beauty and expression to your essays?
 UPSC Mains 2020 Paper model essay and demonstration along
with complete walk-through of the ESSELGO technique in
practice.
 List of metaphors to create impactful sentences in your writing.
 List of Evocative words to create the desired emotional impact.
 Constructive Criticism and the art of evaluating an Essay like the UPSC examiner.
 UPSC Mains 2021 Essay paper solved and analysed with 4D
Analysis
 Multiple new chapter-end exercises
 Link to an entire playlist of video tutorials
An enormous amount of effort has been made so that you enjoy
the intuitive graphics, layout and just the sheer originality of this
book.
I enjoy breaking the rules (in ethical ways) and this book is a
testament to my obsession with non-conformity.
I truly hope that you will join in the adventure!
-Ravi Kapoor, IRS
In stock
Description
The Ultimate Cheatbook 2.0 of Essay and Answer Writing for UPSC MAINS,IAS, IPS, SSC, PSC Exams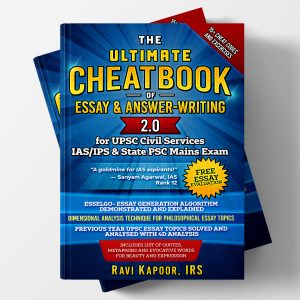 Over the last two years, The Ultimate Cheatbook has remained true to its promise and helped thousands of students make radical improvements in Essay and Answer-writing. It contains several very powerful techniques which have proven to be highly effective and easy to use.
As the UPSC exam pattern evolves, you need a higher and upgraded skill set to tackle the new challenges posed.
This book is the ultimate upgrade for your Essay and Answer-writing skills for the UPSC exam.
WHAT THE CHEATBOOK2.0  WILL TEACH YOU HOW TO-
Think like a UPSC topper.
Learn Exactly what the UPSC wants, avoid exam-traps and perform at your peak on exam day.
Learn THE ESSELGO TECHNIQUE Essay Generation Algorithm: THE SINGLE MOST POWERFUL METHOD TO PRODUCE GREAT ESSAYS ON ANY TOPIC!
Use the Decision Matrix to find out the most SCORING essay topic for YOU among all the options.
Scientifically brainstorm to produce more than 30 points, examples, and arguments for EVERY essay topic.
Do INTELLIGENT ROUGH WORK AND STRATEGIC SCHEMATIZATION before you start writing Essay-answers.
Deconstruct and understand the HEART of ANY essay topic in 60 seconds or less.
Use FACT-CHEATS to make your essay-answers data-packed and well researched.
Learn techniques used by professional writers to CREATE STRUCTURE AND FLOW TO ENGAGE THE UPSC EXAMINER.
Produce IMPACTFUL INTRODUCTION, COMPELLING ARGUMENTS, AND IMPRESSIVE CONCLUSIONS
Learn to ANTICIPATE COUNTERARGUMENTS and think holistically about every topic
Use VASP Quotes to add GRACE AND IMPACT TO YOUR ESSAYS
Use STEPPE Dimensional Analysis to deal with PHILOSOPHICAL ESSAY TOPICS.
How to ADD BEAUTY AND EXPRESSION to your writing by using metaphors, evocative words, and Quotes
Measure your writing speed, time your Essay and improve.
Use the tricks, hacks and cheat codes which boost your score in the Mains exam by as much as 40%.
And much more….
TABLE OF CONTENTS
What Rank Holders and Aspirants Say About The Ultimate
Cheatbook… ……………………………………………………………i
The Brilliant Essay-Writer Inside You ……………………………… ix
are any of these doubts on your mind? ……………………………. xi
My story and why I created the Ultimate Cheat book ………….. xiii
What is the difference between
The Cheatbook and Cheatbook 2.0? …………………………….. xv
What's with the word 'Cheat'? ……………………………………xvii
How to use the Ultimate Cheatbook ……………………………. xviii
Section – 1
CHAPTER 1 Rules of The Game ……………………………………..3
CHAPTER 2 How to Score 150+ Marks in Essay Paper ……………9
Section – 2
CHAPTER 3 What UPSC wants and What It Gets ……………….. 15
CHAPTER 4 What UPSC Wants …………………………………… 23
CHAPTER 5 Navigating Exam-Traps ………………………………. 33
CHAPTER 6 Time Mastery …………………………………………. 45
CHAPTER 7 Prewriting and Intelligent Rough Work ……………….53
Section – 3
CHAPTER 8 The Brilliant Essay Writer Inside You ………………. 69
CHAPTER 9 Deconstruction ……………………………………….. 75
CHAPTER 10 The Heart of The Essay …………………………….. 87
CHAPTER 11 Structured Brainstorming …………………………. 101
CHAPTER 12 Impactful Introductions …………………………… 111
Section – 4
CHAPTER 13 "Body" – Building …………………………………. 121
CHAPTER 14 Good Things and Bad Things ……………………. 131
CHAPTER 15 Indian Things Should Things …………………….. 137
CHAPTER 16 Building the body of the Essay: Bodybuilding 2.0 151
CHAPTER 17 Conclusions and Happy Endings ………………… 163
CHAPTER 18 UPSC CSE Mains 2020-2021: Essay solved and analyzed using ESSELGO Technique ……………………………. 175
Section – 5
CHAPTER 19 How to deal with Philosophical Essay Topics …. 195
CHAPTER 20 UPSC Mains 2021-2022 Essay Paper: 4D Analysis & Solution …………………………………………… 227
CHAPTER 21 UPSC Essay-Writing Evaluation: Judge, Jury & Executioner ………………………………………… 241
Section -6
CHAPTER 22 How to Use Quotes in Your Essays? ……………. 253
CHAPTER 23 How to add Beauty and Expression to Your Essays ………………………………………… 261
CHAPTER 24 Fact Cheat …………………………………………. 273
CHAPTER 25 Optimizing Writing Speed and Legibility ……….. 297
CHAPTER 26 Language-Hacks & Quick Fixes …………………. 305
CHAPTER 27 Smart Revisions: Becoming Your Own Editor …. 315
Bonus Material
Bonus Material a Gift from the Author ………………………….. 321
GS Score Booster Cheat Sheet …………………………………… 323
Acknowledgments ………………………………………………… 337
About the Author ………………………………………………… 341
The Ultimate UPSC Navigator ………………………………….. 347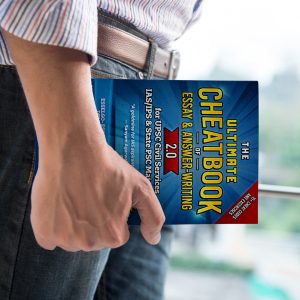 Only logged in customers who have purchased this product may leave a review.