DID YOU KNOW THAT YOU ARE A BRILLIANT ESSAY WRITER BUT MAY NOT HAVE REALIZED IT YET?

The ultimate cheatbook will teach you how to
Think like a UPSC topper.
Learn exactly what the UPSC wants, avoid
exam-traps and perform at your peak on exam day.
Use the tricks, hacks and cheat codes which boost your score in the exam by 40%.
Learn THE ESSELGO TECHNIQUE Essay Generation Algorithm: The single-most powerful method to produce great essays on ANY topic.
Use the DECISION MATRIX to find out the most scoring essay topic for you among all the options.
Scientifically brainstorm to produce more than 30 points, examples and arguments for EVERY essay topic.


Do intelligent rough work and strategic schematization before you start writing essay-answers.
Deconstruct and understand the heart of any essay topic in 60 seconds or less.
Use fact-cheats to make your essay-answers data-packed and well researched.
Learn techniques used by professional writers to create structure and flow to engage readers.
Produce impactful introduction, compelling arguments and impressive conclusions.
Measure your writing speed and time your essay accordingly.
Are any of these doubts on your mind?
Frequently Asked Questions (FAQs)
A. Do I need great writing skills to score well in the Essay paper? Is Essay-writing a skill?
No. The essay paper is not a test of prose. Nor is it a literary competition. What you need is the ability to convert logical arguments into plain language. All the steps to do that effectively in the Exam have been included in the Ultimate Cheatbook.
B. Do I need in-depth knowledge of the essay topic to produce a good essay?
Nope. Not at all. You just need to appreciate all the dimensions of the Essay topic. And DO NOT need to write a research paper on the topic. You will learn Deconstruction and Structured Brainstorming techniques understand the Essay topic deeply. and find the cheat sheet for ALL past 5 years essay topics in the UPSC analysed inside this course.
C. Do I need to memorise the essays of past toppers?
Not at all. It's a bad idea to do so because you CANNOT predict the essay topic in the question paper. But you can predict with 100 % certainty that the Essay topic is made up of two or three elements. You will learn how to do this and break ANY essay topic into Its main parts within 6o seconds or less and never be taken by surprise in the UPSC exam.
D. Do I have to know a lot of facts and data to write a good essay?
Not at all. In reality, too much reliance on facts can be counterproductive. In the FACT-CHEAT you will find ALL the facts which you need to know for the Essay paper in the form of beautifully designed infographics- so that you are able to memorize facts faster and get to know the deeper context behind them.
E. Do I need a rich vocabulary to write good essays? Do I need very good English language skills to score well in Essay paper? Do I need to use flowery language?
No. The Essay paper is not a literary contest. It is a test of your ability to reason well and present logical thoughts in simple and lucid language. Simple is better. In the Ultimate Cheat book, you will find language-hacks and quick fixes to bring out the brilliant writer inside you.
Sneak Peak of Ultimate Cheatbook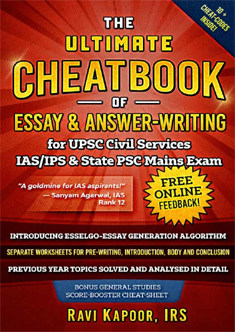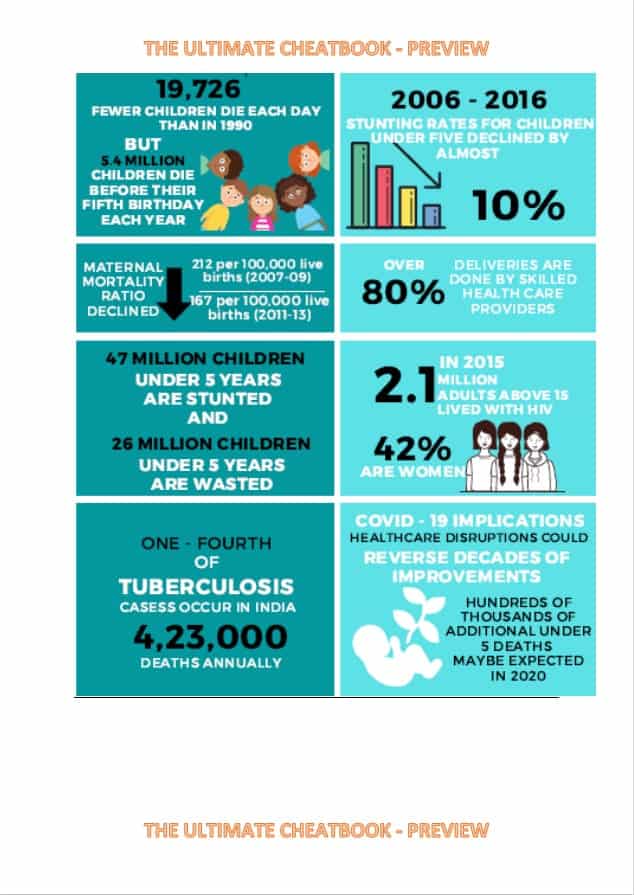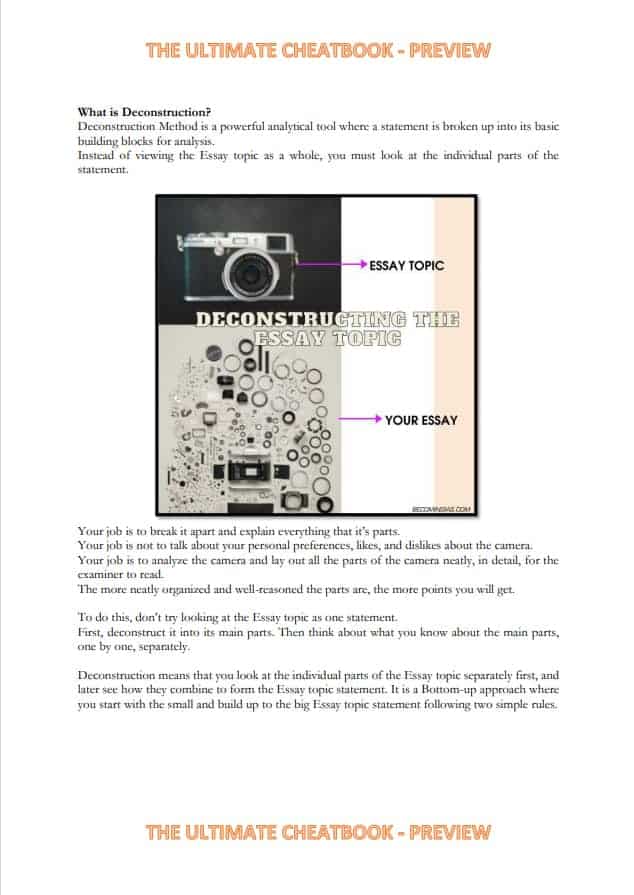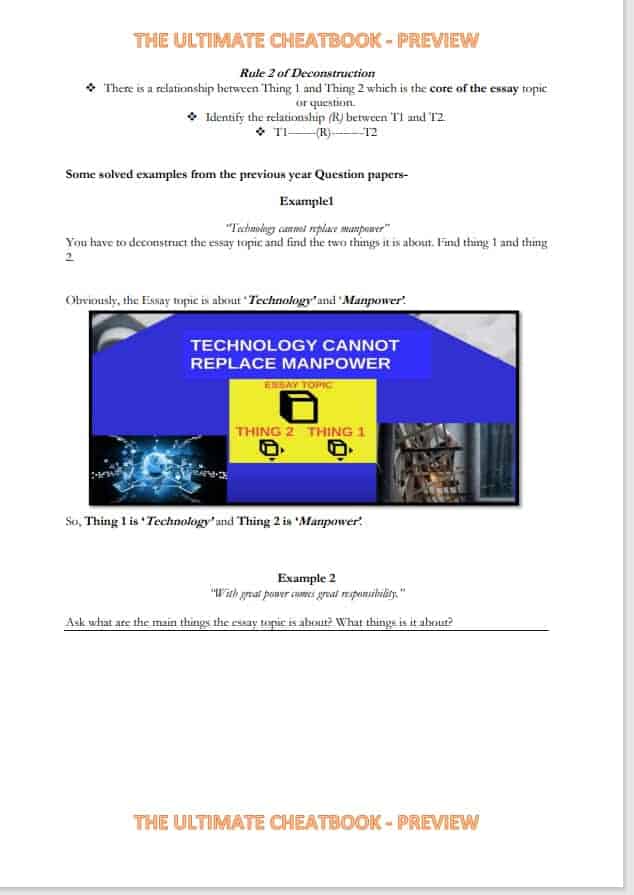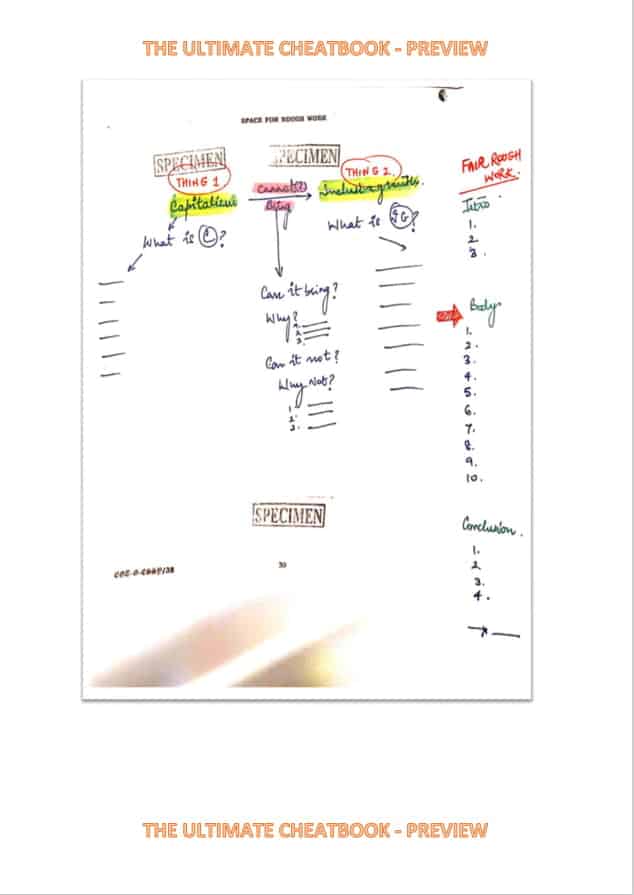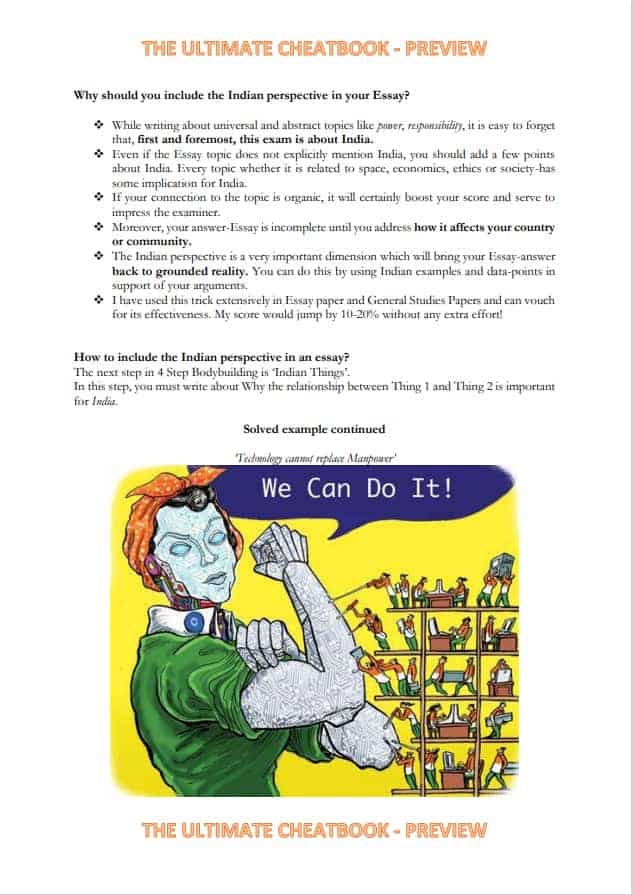 ESSELGO TECHNIQUE ESSELGO or the Essay Generation Algorithm technique is a step-by-step procedure that, if followed properly, will help you to come up with a brilliant, well-structured essay, on virtually any topic under the sun.

5+ Separate Worksheets For Ideation, Brainstorming, Introduction, Body, And Conclusion

Impactful Introductions Create A Powerful Impression On The Examiner By Starting Strong. Convey The Essence Of The Essay Topic, Build A Compelling Narrative And Compel The Examiner To Read Further Into Your Essay.

Detailed Analysis Of Previous Year Essay Topics With Sample Introductions, Arguments, Counterarguments, And Conclusions

Smart-Review Smart Ways And Cheat Codes To Review Your Essay And Remove Any Lacunae Has Also Been Explained To Help You Give Your Essay A Highly Polished Look And Feel

Fact Cheat Sheets Hand-Writing Correction And Quick-Fixes Along With Language Hacks To Improve Flow, Structure And Narrative

Choosing The Topic How Will You Know Which Essay Topic Is The Most Scoring One For You? By Using The Decision Matrix And The Snap-Decision Matrix Tool. Bonus Gs Score Booster Cheat Sheet

Structured Brainstorming Learn Powerful Methods And Cheat Codes To Come Up With Relevant Keywords And Keystone Ideas To Set The Foundations For A High-Quality, Content-Rich Essay.

Learn The 4q And 4q2 Method To Build Compelling And Logically Consistent Arguments Which Will Give Your Essay The Unshakeable Strength Of Reason.

Navigate Exam-Traps Deconstruction Learn How To Analyse And Dive Deep Into The Meaning Of The Essay Topic By Deconstructing It Using Some Simple Rules. Widely Applicable Across All Mains Answer-Writing.

Build Solid Arguments And Counterarguments In The Body Of The Essay The Quality Of Your Arguments Is The Quality Of Your Essay.
What people are saying about the
Ultimate Cheatbook

I don't think there is a better book for UPSC aspirants of comparison to this one- It's a must if you want to clear the exam in your first attempt.
Lakshay
ACP Delhi Police, DANIPS
Although I have appeared in two interviews of the UPSC, I never thought Essay and answer-writing can be simplified to this level. This book will elevate your writing game almost instantly.
Archit Sharma
Appeared in CSE 2020 and CAPF UPSC interview


I really liked the Deconstruction technique and used it in almost all papers of Mains exam. My score in test series has improved drastically after using this book.
Chirag
Data analyst, IAS aspirant
Mains Exam was always my weak point because of writing skills. I found this book very helpful. It finally gave me enough confidence to express my thoughts clearly in the written form.
Devendra
Civil Services aspirant, Bank employee


Aspirants will find real value in the ideas and concepts espoused in this book; I wish I had this book to read when I was preparing for civil services.
Shri Piyush Katiyar
IIT Kanpur Deputy Commissioner
Ravi's insights into what makes an impactful and high scoring essay, are essential for any aspirant's IAS preparation. He has scientifically and coherently broken down the makings of a good essay. I wish the reader all the best for the exams and highly recommend Ravi's book.
Abhishek Verma
IRS, MBA Kyoto University


Being an author and an officer, I can say that Ravi's book is a necessary book for UPSC preparation. Something which cuts through complications and gives aspirants the tools to improve essay-writing almost overnight.
Poonam Dalal Dahiya
DSP and Author of Ancient and Medieval India for UPSC preparation

ABOUT THE
AUTHOR

:-

Ravi Kapoor, IRS – engineer, writer, blogger, and the founder of www.becomingias.com, has been dispelling myths and misconceptions, by simplifying the challenges that prevent so many candidates from achieving their dream of becoming IAS/IPS officers.

Ravi Kapoor is presently serving as Deputy Commissioner under the Ministry of Finance.