I have been requested to analyze and discuss the essay paper for the UPSC CSE Mains 2020- 2021 conducted recently by many of my students/readers. I want to put myself in their shoes and understand their biggest challenges.
Which is why my approach in this article will be to show you how to write a good essay on one of the topics as well as to take you through the entire process of brainstorming, argument-formation, rough work, structuring and organization of the essay as I went through it. This will not only enrich you about the essay topic under consideration but also teach you how to use the techniques to construct a similar essay on any topic.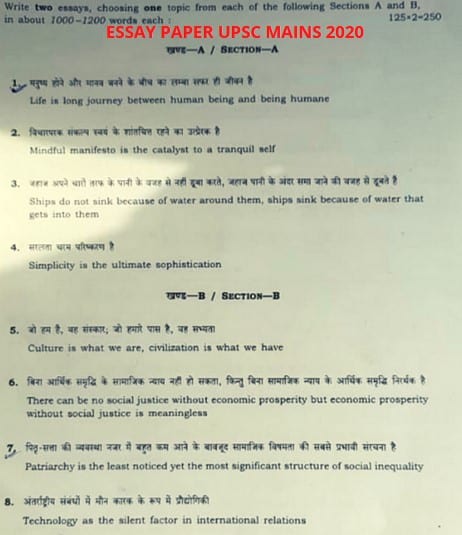 How to approach the Essay topic in UPSC Exam Essay paper
Let us consider the first topic in section A-
"Life is a long journey between human being and being humane"
I will use the techniques listed in my book the Ultimate Cheatbook of Essay & Answer-writing to demonstrate the steps involved in arriving at an essay for the selected topic. It is hoped that this will be beneficial for readers of the book and for those who are curious about it's contents.
Pre-writing for UPSC Mains 2020-21 Essay topic '"Life is a long journey between human being and being humane"
Right off the bat, I use the Deconstruction technique and notice that the essay topic is fundamentally about 2 things- i:e ' human being' and 'being humane'. So Thing 1 is 'Human Being' and Thing 2 is 'Being humane'.
As I deconstruct the relationship between T1 and T2, I realize that the relationship between T1 and T 2 is that one of them is supposedly the culmination of the other across the journey of life.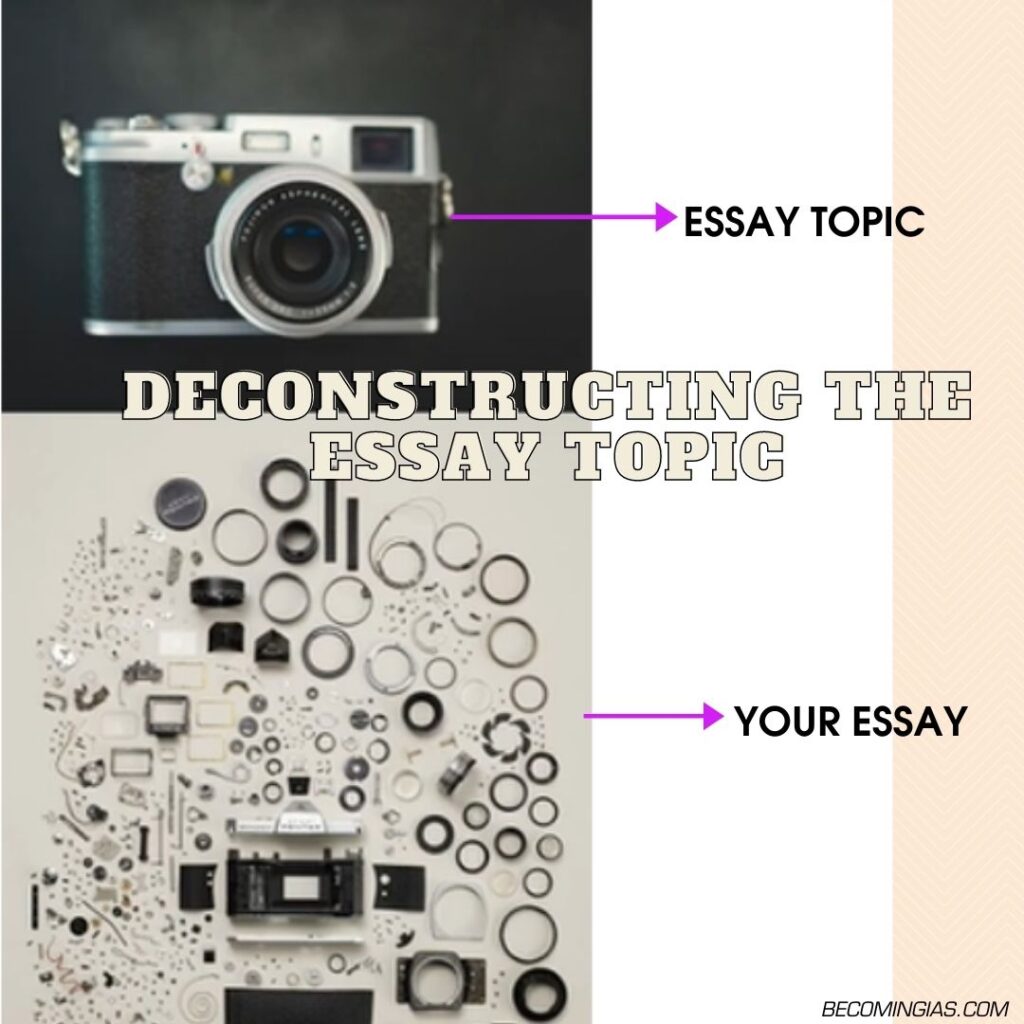 I made a note of this relationship (R) between T1 and T2 without imputing any judgements or jumping to pre-conceived notions about what it all means. I then use STRUCUTRED BRAINSTORMING techniques to generate some points about T1 and T2 as illustrated in my Rough-work sheet below-
I use the 12QC technique to generate these points which helps me activate the relevant networks of my knowledge network in order to obtain the best ideas. I then highlight negative and positive sounding words as suggested by Structured Brainstorming and 12 QC techniques. This makes me realize that this essay topic crisscrosses over many debates and issues such as Biology, environment, psychology, Ethics etc.
The next step was to understand the essay topic right down to its core. So I drilled down into the relationship between T1 and T2 using the 4Q method. This gave me a deeper insight about the various dimensions to be covered while addressing the essay topic about 'being human' and 'being humane'.
I realized that this topic is essentially another variation of an age-old debate between Biology and Ethics. It also undercuts the debate between lifespan development and the evolution of Ethical behavior in humans since the Relationship(R) speaks of life as a journey from being human to being humane. I note these keywords under T1 and T2 for use later on.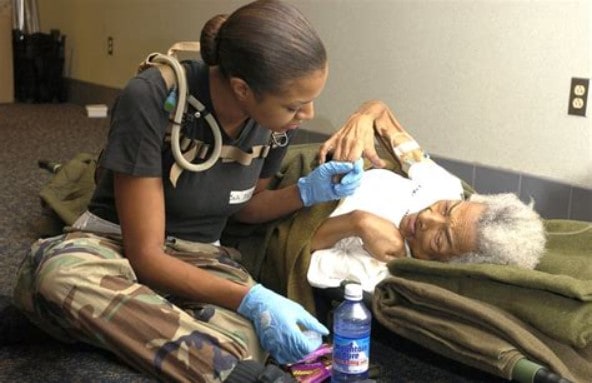 This is where the ESSELGO (Essay Generation Algorithm) method is introduced. The ESSELGO is a powerful and universal template for tackling virtually any essay topic under the sun. As a side note, ALL the essay topics in the UPSC Mains 2020 Essay paper can be deconstructed in to T1 and T2 perfectly and beautifully written about using the ESSELGO method.
I begin by using the 4Q2 method to construct an impactful introduction and make a schematic for the same in the Rough work space. Here, I make sure to gain clarity about the crux of the essay topic and begin to give my arguments some structure.
The listed keywords provide a lot of content ideas and insights about the topic which I listed under the appropriate category on the right side of the page which constitutes the IRW (Intelligent Rough Work) technique for pre-writing and Rough-work as shown in the image below.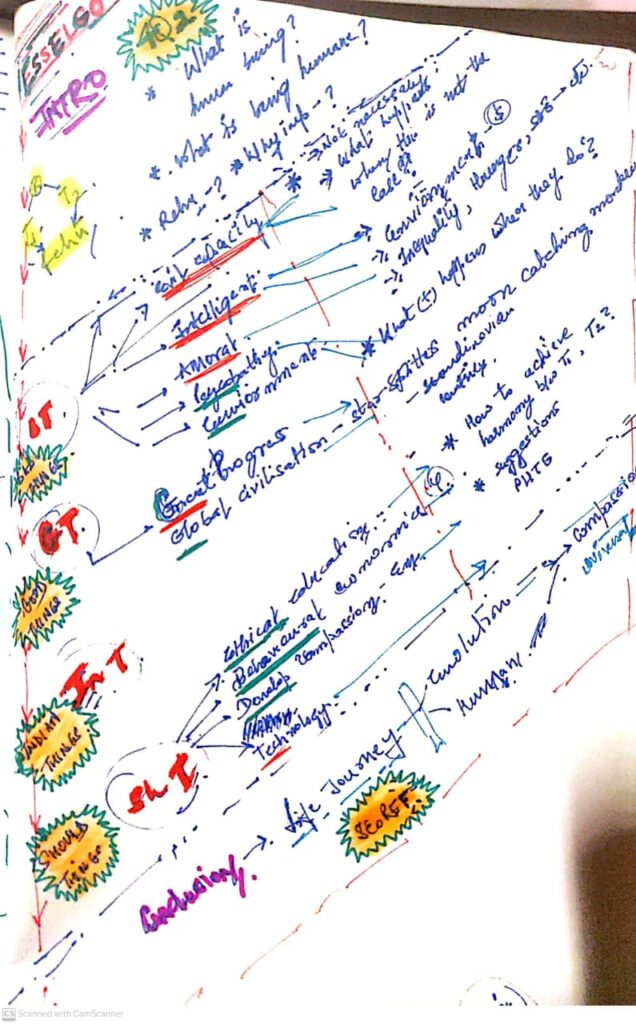 Next, I move on to generating points and arguments using the BGInS Cheat Code as prescribed by the ESSELGO method. To do this, I use the keywords generated during Structured Brainstorming which proved quite helpful in covering the various dimensions associated with this topic. These arguments and points provide further structure to the body of the essay which I will use while writing the main essay.
The ESSELGO and BGInS method inspired in my mind, a good way to structure this essay. Which would be to talk about what happens when human beings are not humane and then to talk about what happens when they are, to contrast the resulting worlds from these 2 value-stance and then conclude with a way forward.
After extensive use of BGInS and various other Cheatcodes, I use the SCoReF method to produce a positive and optimistic conclusion about the future and highlight the mechanisms which can be used to resolve the issue between human-ness and humane-ness before putting the debate to rest.
Here is the resultant final essay borne out of all the above:
———————————————————————————-
LIFE IS A LONG JOURNEY BETWEEN HUMAN BEING AND BEING HUMANE
The 'wise ape' or homo sapiens as human beings are appropriately called are complex creatures. This is because to be a human being means much more than being a biological species amongst other species of organic life. To be a human being means to be a biological, social, economic, emotional, spiritual and a moral being simultaneously.
However while all humans are morally responsible agents, not all humans are humane beings which implies correct moral action and motive on behalf of the agent. A humane being, therefore, is a morally-driven being which is not always the case with homo sapiens.
It is no coincidence that most if not all major religions of the world have stressed upon the primacy of ethical behavior. From the theory of Karma entrenched in Hinduism and Buddhism, to the idea of forgiveness and compassion of Christ, the message is simple and clear- Be good to one another. Be more than human and strive to be humane. This message is strikingly relevant for today's world given the supremacy of homo sapiens as the most dominant and impactful species on the planet. The fate of humanity and the planet may rest upon it.
Human beings possess a tremendous latitude of behavioral potential. Which is to say that they are moldable and flexible creatures capable of achieving god-like feats but equally capable of perpetrating great evil.
During World War 2, 6 million Jews were persecuted and systematically murdered in death factories, the most infamous of which is the Auschwitz concentration camps. Here, Jews were kept prisoner, robbed of their dignity and their lives by another group of homo sapiens who believed themselves to be superior. This incident remains forever embedded in our collective history as the most inhumane and terrible of episodes which demonstrates the potential of humans to be morally abhorrent beyond imagination. It stands as a testament to what happens when human beings fail to be humane beings.
The Anthropocene is the current era in Earth's evolution according to geologists and climate scientists meaning the era of humanity's impact. This means that the human civilization is impacting every aspect of the planets life-system immensely whether positively, negatively or consciously and unconsciously. Scientists estimate that human beings are responsible for the extinction of thousands of species and severe climate change which threatens the survival of countless other surviving species.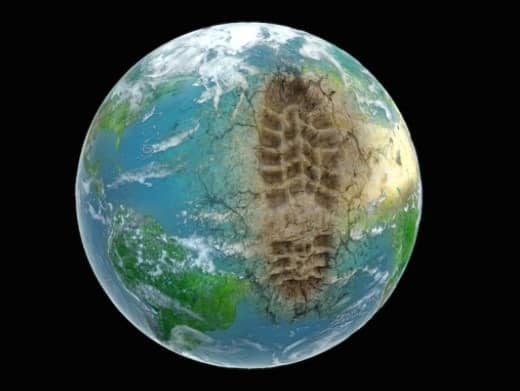 The rate at which Carbon emissions have increased resulting in an unprecedented increase in Global temperatures suggests that the impact of human beings on the planet will be severe not only for other species but for the future generations of human beings themselves. As the generation of people capable of stopping or reversing cataclysmic climate change, it befalls on the humans alive today to accept moral responsibility of their actions or inactions.
Despite of strong evidence to the dangers of climate change, world leaders and governments have failed to cooperate and take swift action. This inexplicable lack of motivation in the face of certain destruction, proves that intelligence alone is insufficient for survival or prosperity.
Despite it all, there are exemplars of ethical behavior amongst the species who are revered as saints for their selfless actions- Mother Teresa, Mahatma Gandhi, Martin Luther King, The Dalai lama to name a few. This proves beyond doubt that humans possess the potential to achieve exceptional levels of morality and compassion.
It follows that when human-ness and humane-ness combine in optimal proportions is when the most remarkable achievements of humans have come to be. These include godly feats such as splitting the atom, travelling through space, landing on the moon and uncovering the genetic code of life itself. The laws of physics determine how electrons are transmitted through power lines just as well as how much energy a 100 Megaton nuclear warhead will release upon explosion. These fundamental laws are known to humans and this knowledge gives them enormous but terrifying power. The knowledge of nuclear physics wrought the atomic bomb but also the Information revolution which has reshaped the world as we know it. The way in which this knowledge is used is what differentiates the merely human from the humane.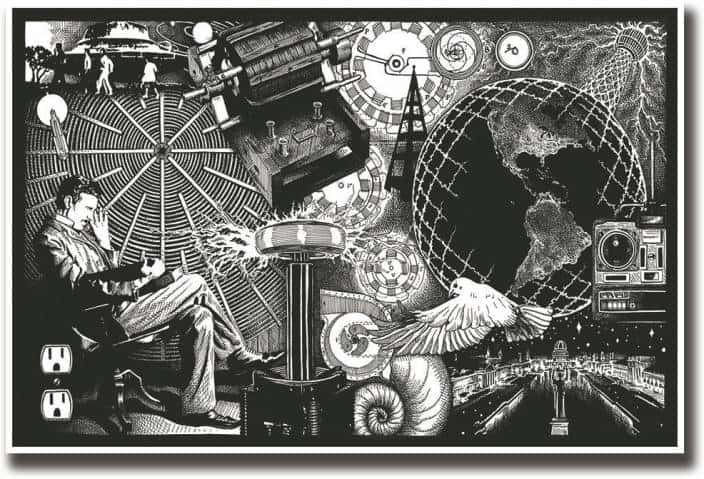 To be humane is to go beyond one's limited ego-mind driven by short-term self-interests. The human being therefore, must do better and strive to become a humane being as a matter of survival, not merely as a matter of choice. Ethical behavior is not optional.
For the individual human being however, the journey to becoming humane is tempered by many factors and is not a one-time choice. Most factors which determine the ethical make-up of a person are strongly contingent upon their external circumstances such as ethical education, culture, role models and life experiences. The psychologist Lawrence Kohlberg's stages of moral development lends strong support to the thesis that moral development or the journey from human to humane, is a life-long process. Being humane involves going through multiple stages or challenges where a child's sense of right or wrong evolves towards more sophisticated as their intelligence and maturity grows. This process is overshadowed by the culture and overall milieu in which the child is reared.
What this implies is that morality is not set in stone. This is cause for jubilation and hope because that humans can use their intelligence to make themselves more compassionate, ethical and happier as a species. Humane-ness is teachable and learnable.
On the scale of individuals, the effort towards large scale change from human-ness to humane-ness must begin with the child's developmental process where moral education should be imparted intelligently. Parents, schools and educational organizations should serve as playgrounds for ethical coaching and tutoring. A safe haven for the fruitful resolution of Kohlberg's stages of moral development for the child until the highest stages of moral reasoning are achieved.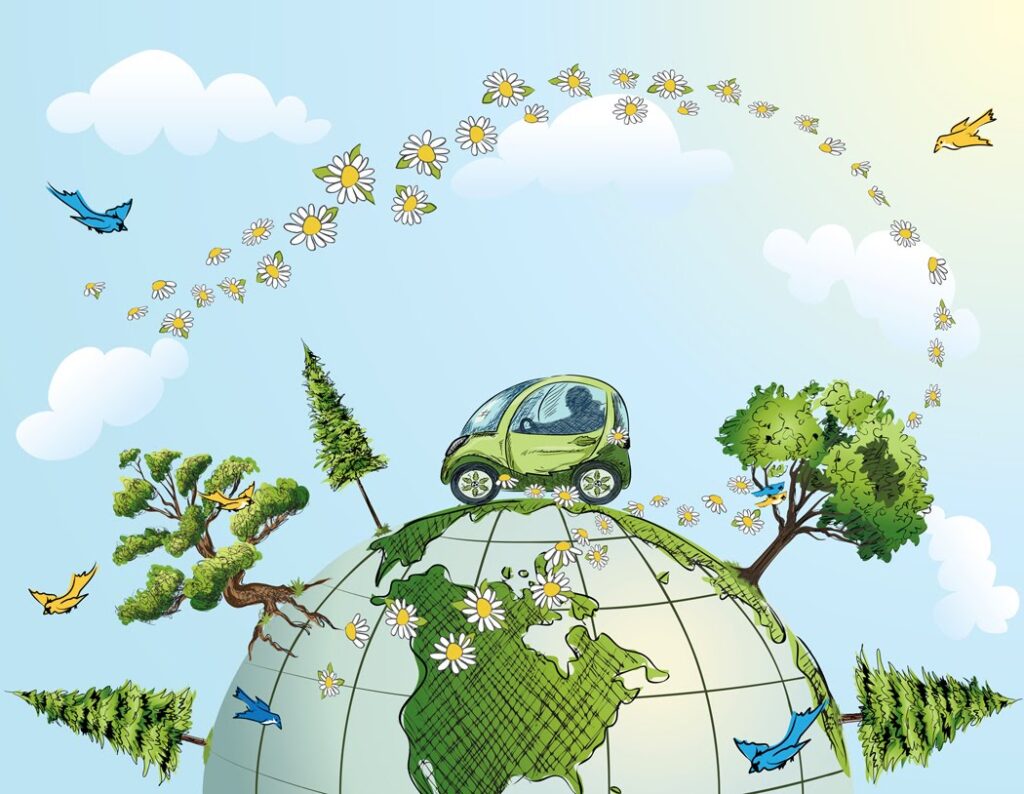 On the scale of communities and larger populations, insights from the field of Psychology and Behavioral Economics offer usable and actionable prescriptions for large scale behavior change. One such suggestion derived from research being that pledges, commitments and formal declarations of ethical conduct should be increased. This is because once formally committed, humans experience cognitive dissonance in not following through or breaking a promise made, thereby increasing the likelihood of ethical behavior. Similar research backed insights coupled with technological outreach have the potential for transforming entire communities of human beings into a global race of humane beings.
Homo sapiens are unique in that they alone have the mechanisms and potential to transcend their primal monkey-nature. They alone can access higher realm of values which include all living beings as being connected in a unity. And the realization that it is not intelligence but compassion which is fundamental to being human.
There is no human without the humane and life's journey is an opportunity for every individual to discover this fundamental truth for themselves.
– Ravi Kapoor
————————————————————————————–
Debriefing and analysis:
The entire pre-writing/Rough work process took me about 30 minutes (including a bit of color-coding for your understanding). The final essay which followed, ended up being written in approximately 1 hour and has a word count of exactly 1169 words which is ideal for the UPSC Mains Essay paper. (Admittedly, I typed it whereas you would have had to write it on paper in the exam.Typing allowed me some editing and corrections but the quality of writing would probably have remained similar on paper vs keyboard)
The images have been interspersed to aid in your understanding of the various dimensions of the topic and to help you grasp the narrative of my arguments.
I hope this was beneficial to readers of the Ultimate Cheatbook who've been asking for this type of write-up as well for those who are curious about Essay-writing for the UPSC Mains Essay paper in general.
ASSIGNMENT: Answer the following lines in 200 words or less.
What do you observe about the structure of this Essay? Does it seem to follow some kind of sequential structure? What could it be?
How are the arguments structured? What effect does this have on the reader?
How is language used to create impact? Notice points of maximum impact.
Are analogies used? What effect did they have on you, the reader?
How many facts and examples have been used? To what effect?
How does the Essay maintain flow while reading?
What did you learn from this Essay which you could use in your own?
Is the Essay balanced in it's opinions and arguments? What must you NOT do to disrupt this balance in your own essays?
This assignment is not me offering you a model essay to emulate. It is me putting myself in your shoes and going through the same motions, techniques and steps which you would and sharing my thought process along the way.
You may choose to approach the Essay in a different way. The valuable thing here is to pay close attention to how the Pre-writing leads to the final UPSC essay and to pick up useful insights where you can.
Tc, stay healthy and all the best for your preparations
Ravi Kapoor, IRS