The Biggest blunder I ever committed during IAS exam was during the Essay paper in one of the attempts.
I wrote an essay on the topic- "Human Intelligence is more important than technological intelligence."
Around this time, the 26/11 terrorist attack on Mumbai were somewhat recent. I harbored dreams of becoming an IPS officer and felt strongly about counter-terrorism.
So, I chose the one topic which struck me as most the emotionally attractive.
I thought I did a good job and was expecting to score very well in the Essay paper. But it was not to be.
Later that day, I researched the topic and realized that I had committed a huge blunder. I had assumed that 'Human Intelligence' meant IQ and cognitive intelligence.
However, in the context of this essay topic, 'Human Intelligence' meant the information and intelligence collected on the ground by Intelligence agencies via informants and spies.
Disaster.
I had written the whole essay on the wrong topic and knew that I would pay a heavy penalty for this mistake.
I ended up scoring 45% marks in the essay paper but managed to obtain an AIR that year. I did not score even lower only because my essay had good structure and flow.
But I learned the hard way that losing those marks was an avoidable mistake.
This cheat-sheet is dedicated to making sure that you don't commit the same mistake.
You might think that this obviously won't happen to you because you've been warned now. But be warned- it is much more likely to happen than you think.
Why you might make the same mistake anyway
It is because of the way your brain works while making decisions.
Researchers found that there are two types of decision-making systems in the brain- System 1 and System 2.
Trap 1 in the IAS exam
System 1 is unconscious fast and intuitive. It is used when you make snap decisions without much thought.
System 1 is in control when, for instance, you do impulsive shopping online for things you don't really need.
While system 1 is faster and takes less effort, it is less accurate and can lead to errors and bad decisions.
System 2 is slow, deliberative and analytical. It is the kind of thinking you do when you solve the Math questions on CSAT. [1]
System 2 is slower and requires much more effort but is highly accurate and produces good outcomes.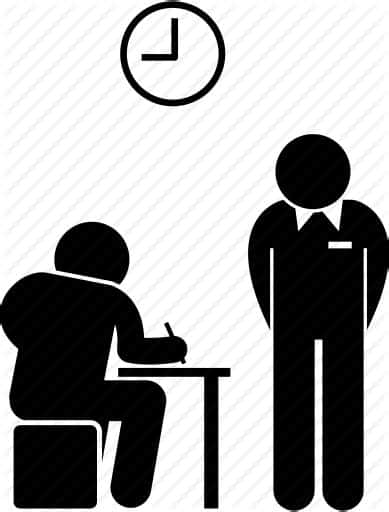 During the examination, when time is constrained and the stress-levels are high, it is the ideal condition for system 1 to take over.
This is what usually happens in the Essay paper where you have to choose one topic from a set of options – You end up making a quick, but less than optimal decision.
Under a time constraint when quick thinking is required, all kinds of bad reasoning can take over your mind during the stress-full IAS exam.
Trap 2 in the IAS exam
It may not seem like it, but the UPSC has laid a trap for you by giving you a lot of options in the question paper. This is because of a psychological effect called the decision-paradox– another finding from research in the Cognitive Sciences.
The Decision paradox is the effect that more choices reduces performance. It is counter-intuitive but when people are given too many choices, they make worse decisions and are usually less happy. [2]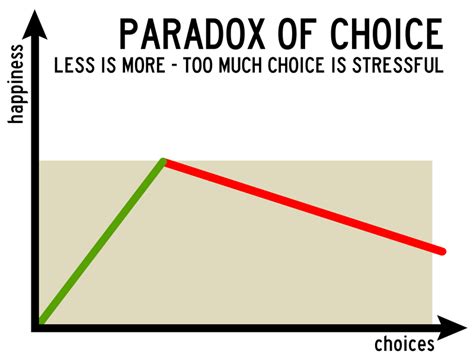 Too many options lead to cognitive dissonance and paralysis-by-analysis. Less is more.
You can experience the decision paradox yourself-when you try to choose the best topic from the questions below.
Below are two sections from the Essay paper of the IAS exam from which you must choose one topic each and write a 1000 word essay on each.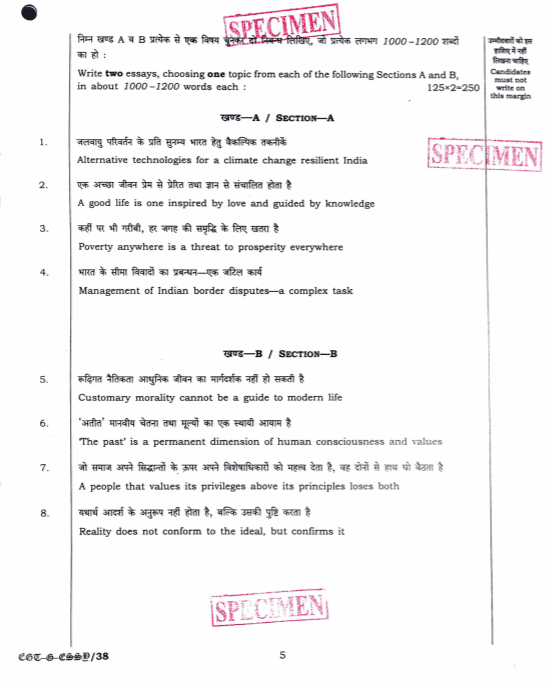 Should you choose the topic which helps you stand out, in that the one which is not likely to be chosen by other candidates?
Or should you stick to the topic you think you know the most about?
Or the topic which you feel most strongly about?
Choosing well is important
in the IAS exam
Your strengths and weaknesses are different from others and so the best choice for you is likely to be different from the best choices of others.
Decision paradox can kill your time and cause confusion.
Not choosing well may cause interference and distract you later during the IAS exam.
A bad choice of topic is irreversible once you start writing on the answer sheet.
A bad choice becomes obvious half-way through the exam when you run out of points and are forced to repeat the same arguments over and over again.
The structure and flow of your answer or essay will suffer.
This will be spotted by the examiner and you will loose marks.
A good choice of essay topic can boost your score by up to 40%.
It is easy to say that you should choose wisely but HOW do you go about doing this?
What are the exact steps to follow to make the best possible choice?
Here is your video tutorial for this lesson.
DECESION-MATRIX-SOLVED EXAMPLE
The good news is that I designed exactly such a tool called the DECISION MATRIX.[3]
DECISION MATRIX is a series of weighted scores which reflect your proficiency level on a given topic.
For example, If the topic you are considering is- "Capitalism cannot lead to inclusive growth'.
In decision Criterion 1, If your option is Economics or Public Administration and you probably have more than enough knowledge about the topic, give it a high score of 8 or 9.
My optional was Public Administration and I had a good idea about Capitalism and growth so would score this is a 9.
If the topic under consideration was – "Tourism could be the next best thing for India", I would give a score of 2 because I know very little about the tourism industry.
Score all the four topics in the section agaisnt all the decision criterion and add the final score for each.
The topic with the highest score is your best choice.
Super-important tip: Once the choice is made, do not look at the questions again or they will cause interference in your thought-process. Do not second-guess yourself and confidently start working on the chosen topic.
The UPSC Essay paper has been completely decoded and you can read about it here.
The topic I chose during my attempt was "Human Intelligence is more Important then technological intelligence for counter-terrorism".
When years larer, I applied the Decision matrix to that topic, I obtained a score of 22.
The low score of 22 confirms that it was a bad decision to pick this topic.
The score of the Decision matrix corresponds to the low score I obtained in the IAS exam.
Even though I felt confident that I had picked the right essay topic, the score of the decision matrix is suggesting the opposite.
WHAT THIS MEANS FOR THE IAS EXAM AND YOUR PREPARATION
Snap-decision making can be dangerous and wrong but it can be sharpened by training the brain by using the Decision matrix.
Now that you have this tool, you should use it as much as possible. Most importantly, use it as a mirror to tell you the truth about your preparation and choices. More than anything, this is an exercise in introspection.
Think about the decision criterion to judge yourself when you study something or while picking an essay topic.
I tested the decision matrix extensively and it has consistently led to good feedback and better decisions.
For the first few times remember to take your time while answering the questions. Because after some practice, you will not need pen and paper and will be able to do the decision-analysis mentally. Which is exactly what we want during the exam.
Why is the decision-matrix useful?
It will check impulsivity and lead to good decisions.
It will force you to recruit System 2 in your brain.
It will resolve the decision paradox.
It will force you to think hard about what you think you know Versus what you actually know.
It will give you feedback about your level of preparedness on any given topic.
It can be used in all written papers in the IAS exam including General studies and Optional subject papers.
The decision matrix is your quality control device during the entire preparation journey leading up to the IAS exam.
It is the scientific way to make decisions and get a solid start.
HOW TO PRACTICE AND USE THE DECISION-MATRIX ?
You can choose to take a print-out of the decision-matrix or to recreate it on paper in order to practice.
But thankfully there is something more convenient available. Because of it's utility, the decision-matrix has been converted into a clickable exercise.
This exercise is free. You can find it here.
Upon reaching the page of the exercise you can begin the by choosing one essay topic at a time.
You must rate your Reponses for the decision-criterion on the scales as depicted below-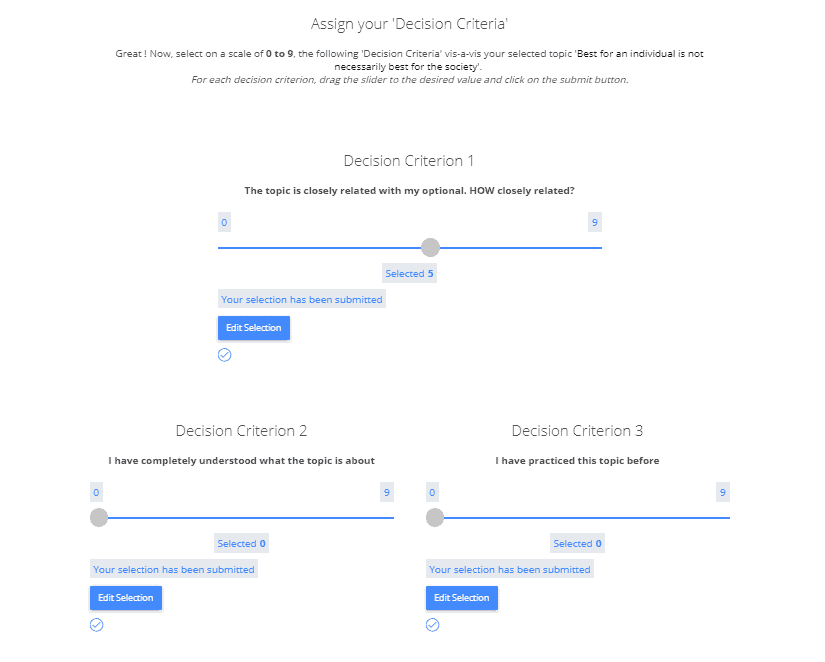 Once you are done with all 4 topics, the software calculate your total for each topic and output a report which will look like this-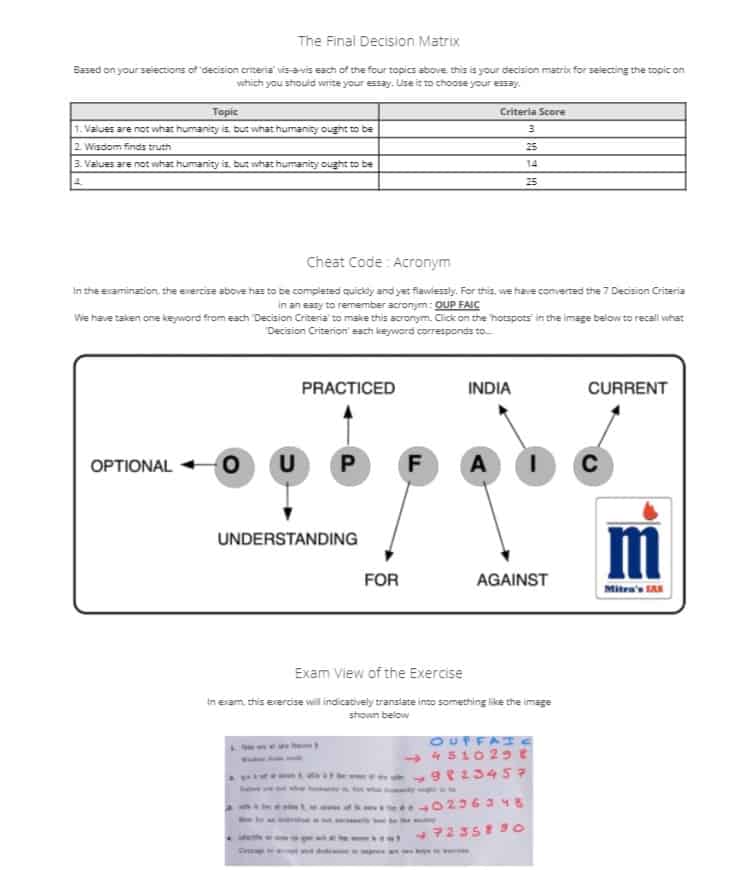 Assignment
It is time to look into the mirror and and to be brutally honest with yourself.
Your assignment is to do the following-
Use the Decision-Matrix for analyzing your own level of expertise for 4 topics mentioned above . You can use the online tool or do this manually but be brutally honest with yourself.
Also write in about 100 words what the decision-matrix has revealed to you which you did not already know about your own preparation. Consider the following questions while writing- Did some of the scores surprise you? Why? How did this exercise change the way you look at making decisions in the UPSC exam? How can you use this decision-matrix type-format to other areas of the exam? What other areas of applications in your life outside the exam can you think of for this decision-matrix type tool ?
---
Tc and all the best.
Ravi Kapoor,IRS
Author of the Ultimate Cheatbook of Essay & Answer-writing
---
[1] Thinking fast and Slow by Dr Daniel Kahneman is an amazing book which changed the way I think about decisions and thought. Dr Kahneman won the Nobel prize for his work on human judgement and decision-making in 2002.
[2] The Paradox of Choice – Why More Is Less is a 2004 book by American psychologist Barry Schwartz.
[3] Copy right protected content. Reproduce only with author's permission.
---