Ever so often you will find topics like " simplicity is the ultimate sophistication" and " life is a long journey between being human and being humane" in the Essay paper of the USPC exam. While topics such as these are not exactly philosophical but consist of a subject-matter which is generic and non-technical.
It appears as if such Essay topics can be answered with common-sense alone. This is a mistake.
Philosophical or general topics are more difficult to write about than others precisely because they apply to so many phenomenon across the board. This means that even if you address the central theme of the essay topic in the UPSC exam, there could be important aspects of it which you failed to consider.
Your essay would not be wrong, but it would not be comprehensive either.
Is there a way to ensure both?
Yes and it is called Dimensional Analysis.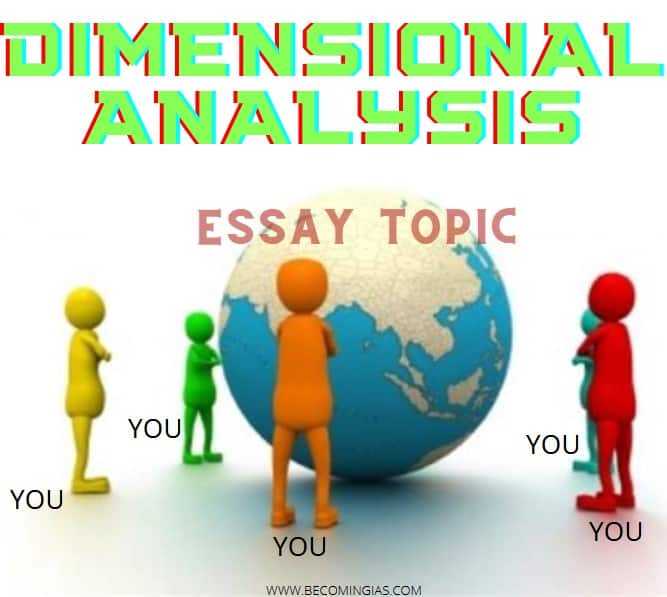 Dimensional analysis for essay-writing in the UPSC exam
The human world is as complex as the human being itself. Depending on one's proclivity and training, people look at the world through different perspectives.
Just like the parable of the 6 blind men who were tasked to describe an elephant.
Since the elephant is much too big an object to be held and analyzed, they all described at as different objects based on the part of the animal they happened to inspect.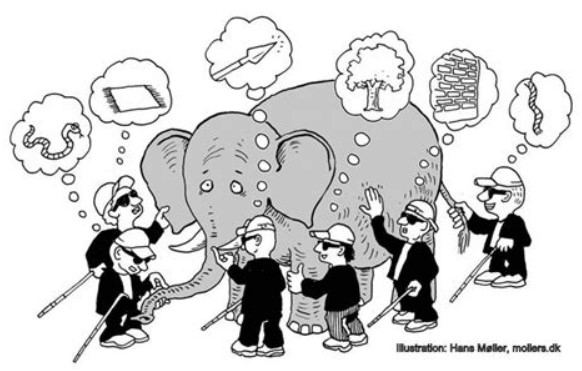 Because of their limited perspectives, the 6 blind men came to different conclusions about the same object. One thought it to be like a rope while another concluded that the elephant resembled a tree.
None of them were wrong. But none of them succeeded in painting a complete picture of the elephant either.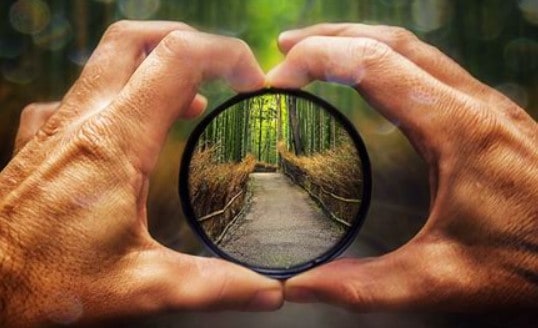 In a way we are not unlike the 6 blind men with our limited perspectives. Take the example of the Covid-19 pandemic as a differentiator-
To a biologist or a doctor, it is a molecular virus causing disruption in the immune systems by side-stepping White Blood Cells and invading a cell to multiply and reproduce.
To an economist, the pandemic might be an economic problem of supply and demand vis-à-vis hospitals and infected persons. It may point towards the stark inequality of society where the rich can sequester and isolate themselves while the poor remain vulnerable to exposure and disease etc.
A Psychologist might see the pandemic as a challenge of large-scale behavior change or a complex interplay of group behavior. He/she be concerned about psychological ways to nudge people in to maintaining social distancing.
A spiritually oriented person might see it as a personal challenge to be overcome or depending upon their level of religiosity, an example of god's wrath upon humanity.
Such is the nature of truth in general and for the purposes of this article, generic or 'philosophical' of Essay topics in the UPSC exam, in particular.
A 'dimension' in dimensional analysis for essay topics in the UPSC exam, is a way of looking at the essay topic – an advanced, more abstract variant of the Deconstruction technique.
Again , the point is that each of these perspectives are VALID and TRUE in their own right.
Your job in the UPSC exam is to illuminate all the relevant dimensions of an Essay topic instead of just one.
What are the Dimensions?
You should subject an Essay topic to Dimensional Analysis by considering 6 perspectives or Dimensions abbreviated as 'STEPPE'.
S.T.E.P.P.E – SPIRITUAL. TEMPORAL(TIME). ECONOMIC, PSYCHOLOGICAL. PHILOSOPHICAL. ETHICAL.
These dimensions are universal and therefore, very versatile.
Below, you will find each of these dimensions introduced and explained by some of the best domain experts and teachers in the world.
SPIRITUAL:
TEMPORAL:
ECONOMIC:
PSYCHOLOGICAL:
About decision-making, irrationality and Behavioral Economics-
PHILOSOPHICAL:
Here's another gem-
ETHICAL:
Absorb the video resources shared in the lesson. While you do so, imbibe 3 things from them- content, expression and good prose. Note good points, impactful sentences and useful arguments. Try to insert them in your assignment.
How to use Dimensional Analysis for Essay topics in the UPSC Exam
You should be able to connect almost any Essay topic in the UPSC exam to each of the 6 dimensions explained in these videos in way or another.
In other words, while using Dimensional Analysis, your job is to inspect an essay-topic from the point-of-view of each of these dimensions.
You should spend some time watching and absorbing the contents of these videos. They have the potential to elevate your thinking to a much higher level than you might suspect. I suggest multiple viewings-
In the first viewing, focus on obtaining a big-picture view of the dimension. Note the important key-words and themes which are repeated or appear to be centrally important.
In the second viewing, turn on subtitles and begin to notice the language used by the speakers. pay attention to the expression and delivery. Pause the video if you need to and note down some of the specially impactful sentences for use later.
Then if you have the luxury of time, explore other content by these YouTube channels.
Super- important tip: The type of language and content used in these videos is very similar to the kind you should use in the UPSC Exam. In some videos, It is as if the speaker is RECITING a well-structured essay itself. Shamelessly borrow sentences, paragraphs, examples and narrative from these videos and use them while writing your Essays.
Assignment
Your assignment is to connect the following topic to each of the 6 dimensions in STEPPE-
'' Culture is what we are, civilization is what we have'' 
                                                                  - ESSAY PAPER, UPSC CSE MAINS 2020
Write 100 words or 2-3 paragraphs in proper English about each dimension after viewing the Essay topic from that POV (Point-of-View).
Do not write in points or short-form. Use fully formed sentences like you would in the UPSC Mains Exam.
The total word-count of your assignment submission should be at least 500 words.
Submit your responses in the comments below.
I hope that you revel and enjoy this new process of learning and of expanding your mind.
Take precautions and stay healthy,
Ravi Kapoor, IRS