Richard Feynman said that the best way to learn something is to teach it. When it comes to UPSC essay-writing espcially, the power of this approach can not be overstated.
There is something painfully missing in pedagogy-and that's pedagogy itself. No one teaches you about teaching itself. Or just how potent it can be as a learning tool.
If there is merit in learning from teaching, then students should be taught to become good teachers, instead of just good students.
Why is it that students are only 'taught' things, are spoken-down to, are recipients of and are destined to be consumers of 'Education' and not the teachers of it? Should it not be the other way round?
It is in the nature of this process to compel the 'teacher' to learn and raise the bar of his/her understanding to higher levels. Especially, If he/she is to avoid embarrassment.
This is because you can not evaluate or teach something to someone who already knows more than you. You must have something valuable to share or to point out, in order for any meaningful 'teaching' to have taken place.
You are therefore, forced to learn.
How to use this technique to improve UPSC Essay-writing and preparation?
It is simple: You become the UPSC examiner and think like him.
Remember the judge from the previous lesson? For now, assume that you are him.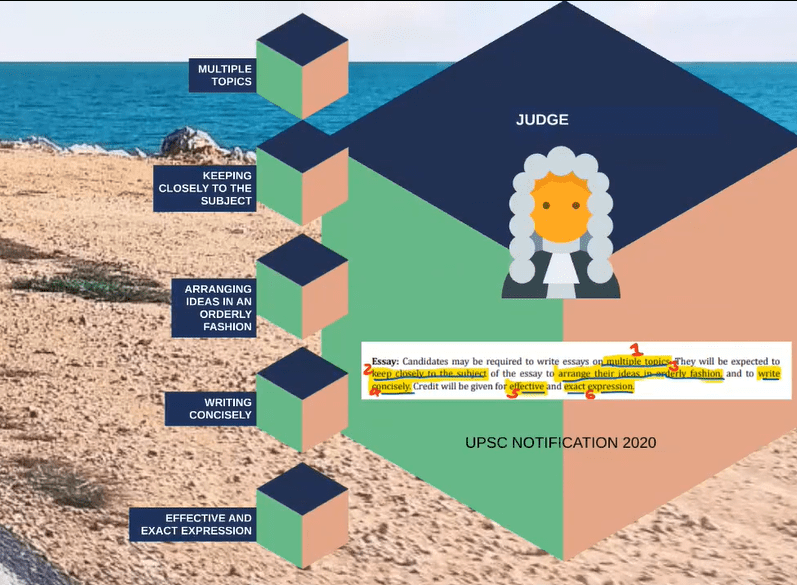 You remember from the previous lesson what the UPSC wants from your Essay-writing is the following:
Effective and exact expression
2. Staying closely to the topic
3. Arrangement of ideas in an orderly fashion
4.Writing concisely
Here is an essay of a brilliant student of mine, who shall remain anonymous and who recently appeared in the UPSC Mains exam.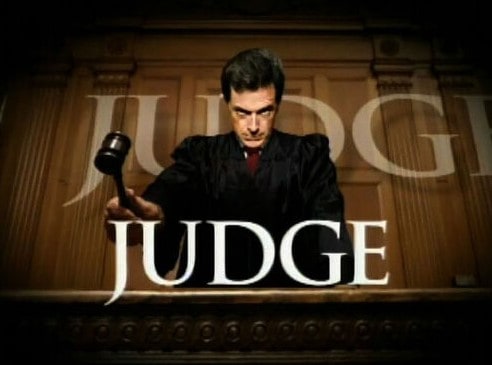 I evaluated it and shared my feedback with him. Here is a portion of that email conversation-
"....You have written a really good and detailed essay which I was really happy to see. 

Right at the outset you define what a pandemic is and then get straight into it. The whole thing flows smoothly and you cover everything in great detail and maturity of understanding. 

It is also clear that you have used many of the techniques mentioned in the book to very good effect.

Here are some things which I thought might be useful- 

After the introduction, you get right into the economic impact of the pandemic and then weave your way across. I think you could insert a paragraph here mentioning and informing the reader about what is to come, something along the following lines-
The impact of the pandemic have been wide-spread and deep. It is safe to say that no area of human life has remain unaffected by it- be it economic, psychological, infrastructural or otherwise. You could then proceed to write about each of these dimensions and chunk the relevant portions of the same dimension together. For instance, while speaking about the psychological impact of the pandemic you mentioned how it forced people to go inwards and introspect about things which they otherwise take for granted. This is a brilliant point to add but it could benefit from better organization. 

When you mention the dimension ( economic, psychological, ethical, historical, philosophical etc) you are focusing on, it not only organizes the essay neatly for you, it also tells the reader what to expect in the next few paragraphs. So you cover the economic dimension and talk about some examples and offer some data and your conclusions. Then you move on the next one and so on. 

Now I know this is a different way to organize the essay than ESSELGO method but you are advanced enough in your writing to be able to pick and choose the best elements from both. You could use them simultaneously as well but this is totally up to you and the type of essay topic you are faced with. 

Further on, You cover the Indian perspective nicely and it fits right in the rest of your essay comfortably. Again, my advice is to announce what you are going to do in the next few paragraphs before you dive into the details  of it. In this instance, you did exactly that when you mention that the pandemic effected all countries and India was not spared. I would insert some space after this sentence to just give that particular sentence a tiny paragraph of its own and start the rest of the points after that in the next para. This tiny paragraph serves as your sub-topic, in essence without actually being one explicitly. By setting this precedent, when the examiner looks back to your essay, he will find that every essential block of your essay is followed by a small one-to-two sentence sub-topic-type paragraph.

Another thing which stands out after reading your essay is your focus on the economic dimension which you obviously understand very well and have done a good job of illuminating in detail. I'd say you could distribute your expertise and highlight more aspects of the pandemic to give your essay more width and to cover more ground, so to speak. 

That said, there is no broad area which you have left uncovered including the Environmental one which is great.

It is nice to see how you balance and counter-balance many of your points with both positive and negative outcomes, like you do with the rise of domestic violence versus the surplus time which the lockdown made available to people. This is exactly the kind of stuff you want to read on an Essay topic where the primacy is the impact of this mega-event. Impact always goes both ways. This type of thinking is desirable and you should use it in the Exam.

The conclusion is solid. The only thing I would add is perhaps something future oriented like the following-
The covid-19 pandemic is not the first and will not be the last pandemic which humanity faces. Through the hard-learned lessons which we have collectively learned, we can build a more sustainable and resilient world for our future generation etc...There is a small but significant gap in the grammar which if you were to fill out ,it would make your writing beautiful. What I mean to say is that you write with great effectiveness and deliver the message logically very well. 

The next level is to introduce poignancy in your writing. You can do this by adding short and impactful sentences which appeal to the common sense. Sentences such as- The pandemic shook the world. The world stood paralyzed as a microscopic entity humbled us all. There is no bargaining with a virus, Cooperation became imperative. The virus showed us that cooperation is not optional. Human cooperation equals survival. The pandemic has broken our collective arrogance temporarily. Will we allow another mega-event like global warming to stir us into action or will we show proactiveness? Denial is not an option with natural calamities. etc. 

Notice that I am using metaphorical writing in these sentences. I want you to drop these micro-sentences and sprinkle them over your writing to produce that effect which knocks the reader in the head with a jolt. Remember, however, not to overdo it. Overall, I would place your essay in a solid 120-140 mark range with the only caveat being that I am erring on the side of caution. 

Tc and stay healthy,
Ravi
Notice that I highlight the good and the not-so-good while giving useful suggestions. This is called constructive criticism and it is what you also must practice in your Evaluation reports. But the purpose of sharing this with you goes beyond just a demonstration. I want to impress upon you the fact that while writing the above feedback, I probably learnt more about writing and the essay topic than the writer of the Essay.
This is what you must experience now.
It is your turn to be the judge.
Your assignment is to judge the same essay and submit your evaluation reports based on the rules mentioned below.
Assignment & Rules of Evaluation
Your task is to prepare a 500 word evaluation report on the essay. Here are some things which you should include-
Note any mistakes in grammar, syntax and language. Point out where the mistake occurs and what the mistake was.
2. Note any analogies and metaphors used in the Essay and see if they help explain the issue or if they confuse you. Where would you insert metaphors and how would you do it?
3. Find if some of the longer sentences be converted in to shorter, more impactful sentences? Find 5 such sentences from the Essay and write their shorter and more impactful versions.
4. Note any deviations from the topic and mention the paragraph and sentence where it occurs. Explain in 50 words or less about your suggestions of how the deviation(s) could have bee avoided.
5. Note the structure of the Essay carefully. Isolate the main points.
6. Rate the following on a scale of 0-10 where, 0 is horrible and 10 is superb-
Effective and exact expression
Staying closely to the topic
Arrangement of ideas in an orderly fashion
Writing concisely
7. Add the 4 ratings and divide by 4. That's the score for this Essay according to you. Include this score in your report.
8. Mention what you liked most and disliked most about the Essay and how you would improve upon it.
Building this report will test you. In the process of making this report, you must become the judge, the jury and the executioner and balance the three acts.
Good luck!