The UPSC main syllabus consists of 7 papers or examination on which you will be scored. Your total score will determine whether you are invited for the interview round or not.
Your score in UPSC Mains exam, in addition to the score obtained in the Interview round will determine your final rank in the IAS exam.
This article contains everything you need to know about the UPSC mains syllabus- from it's contents to using it as a tool to clear the IAS exam.
UPSC Mains syllabus for paper 1-7
UPSC mains syllabus consists of Ethics, General Studies, Essay and Optional papers spanning over 7 exams.
Paper 1 of the syllabus of UPSC
Essay
The ESSAY PAPER in the UPSC examination is General Studies Paper 1 accounts for 250 marks in the Mains examination.
Lucky for you, the UPSC syllabus and notification tells you precisely what it is looking for in the Essay exam.

The good news is that the essay paper is the smoothest paper in the civil services Exam to score very high marks in.
You don't need to be a gifted writer to write good essays.
You hardly need any specialized knowledge about the essay topics.
You don't need to use flowery language in your essays. In fact, you should avoid it.
You don't need to memorize facts and data to write great essays.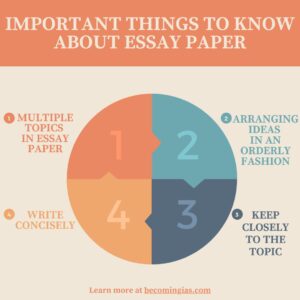 You can learn how to score extremely high in the Essay paper here.
Paper 2, 3 & 4 of syllabus of UPSC
General Studies
General Studies encompasses 3 separate papers. The syllabus for General Studies paper 2, 3 and 4 has been compressed into one page for ease of use.
I recommend keeping this picture in front of your desk all throughout your UPSC preparation journey.
If I were you I would set it up as the background Wallpaper of my Computer or Phone to serve as a constant reminder.
I analysed the UPSC mains syllabus for General Studies in detail and realized that it holds a lot of useful clues for the aspirants.
You can read about the hidden messages in the UPSC mains syllabus here.
One of the most important take-away message in the UPSC mains syllabus about General Studies syllabus is-
The syllabus of UPSC for General studies forced you to know your future employer
If you wanted to work for Google, you would need to know what they look for in an employee, right ?
You would go to their website and understand the problems which the company is facing and consider how you can help solve them.
Why not do the same with your future employer- the Government of India?
The broad goals of the Government of India (regardless of political party) are formally enshrined in the Constitution of India. They are most explicitly mentioned under the 'Directive Principles of State Policy'.
But how are these directives to be full-filled? Through the Executive Branch of the Government which is structured into separate ministries.
Notice how closely almost each one of the Directive Principles of state policy corresponds to a different ministry of the Government.
These goals are, in a way, the syllabus FOR any Indian Government – your future employer. And that is why these goals are in the UPSC syllabus too.
General Studies Paper 3 and General Studies Paper 4 is mostly about these goals and the progress made on these goals.
Try going directly to the official websites of seperate ministries and read the articles and reports they publish.
You will learn more General Studies this way than by reading endless notes and books.
You can also learn how to use the UPSC mains syllabus to kick-start your UPSC preparation into high gear here.
Paper 5 of syllabus of UPSC
Ethics
The Ethics paper is a new addition to the UPSC mains syllabus.
It is designed to test for values like integrity, empathy, tolerance etc.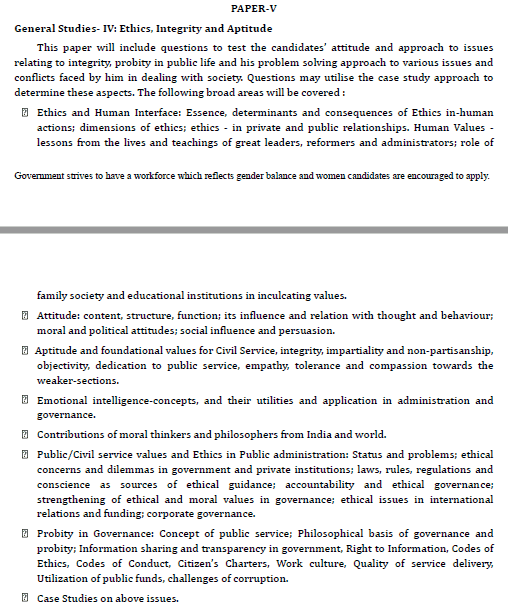 The Ethics paper of the UPSC mains syllabus tells you the kind of qualities you should inculcate within yourself to be a good fit for the job.
If you approach this job with compassion, you will probably draw a lot of meaning and happiness from your job. This is not some stereotypical touchy-feely piece of wisdom. The beneficial effects of Compassion have been thoroughly researched and are well-documented research.
A career in the civil services is uniquely suited to give you this kind of happiness in abundance, but it comes with some caveats.
Compassion will have to directed and intelligent compassion. You will have to discern how to practice compassion and whom to apply it on. This sounds simple now, but, in real life situations, it can be quite messy and unclear.
No wonder then that General Studies Paper 4 contains a section on Ethical Case studies to judge these qualities in you.
Paper 6&7 of syllabus of UPSC
Optional subject
Optional subject can be chosen according to preference.
There is no rule mandating that you should choose the subject of your graduation. The only important thing to consider is that the difficulty level of the questions will be that of Honors or College level degree.

The questions are essay-type of different word lengths.
You can read about how to write excellent answer-Essays here.
In a nutshell, the mains exam is all about the quality of your understanding of the subject. The maturity and depth of your answer determines the score you get.
UPSC mains syllabus Super -simplified
The UPSC mains syllabus seems never-ending at first glance.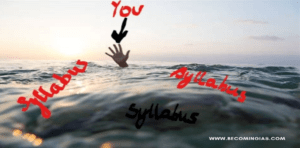 As you read it for the first time, it feels as if everything under the sun is included. But the UPSC mains syllabus is not as impossibly difficult to cover as it may appear.
It CANNOT be aproached the wau you aproach syllabus for exams in School or College. The IAS exam is a different ball game.
That is to say that school and college exams are actually different games with different rules. The UPSC exma preparation has no fixed rules.

The emphasis of the UPSC on curiosity and Interest is evident from the first sight.
The UPSC is EXPLICITLY and DIRECTLY tells you how to approach this examination.
The word 'Interest' is mentioned THRICE in a single paragraph in the UPSC notification!
But what if you are not a very curious person? Not everyone is so curious about the World, you might say.And I would agree with you. You can read more about curiosity here.
Hardly anyone is.
But the good news is that You can develop genuine Interest in virtually ANYTHING.
Being curious can be learned, AND it makes life extremely interesting!
I never had any interest in academics in my life before I began preparing for the UPSC. The only thing I was curious about was Bodybuilding and Weightlifting.
I learned to love reading and learning during the UPSC preparation so much so that I am addicted to learning to this day. I don't think I will ever overcome this addiction. Nor do I wish to.
UPSC mains syllabus explained
You will invariably be faced with conflicting demands and goals which the syllabus of UPSC is testing for.
As a civil servant, you will sometimes be making decisions that impact a large number of people.
In real life, as in the civil services, there are always tricky choices to be made.
These decisions can have far-reaching consequences for others, and it is crucial to think about what those consequences might be and who all might be affected.
In your career as an IAS officer or elsewhere in the Government, you may sometimes be making decisions that impact a large number of people. These traits are tested extensively all throughout the IAS exam.
But It is most obviously tested in the Essay and Ethics paper.
By adding case studies in Ethics, the UPSC wishes to actually place you in a simulated situation and judge your response.
You will score more marks if your answers are well-formed, include more groups of people, and are appreciative of the complexity of real life.
ANd it's all for the better because you will have to think differently to cover the entire UPSC mains syllabus in record time.
UPSC mains syllabus: How to start UPSC preparation
If you have decided to take the plunge and want to start UPSC preparation, the first step is to figure out exactly WHAT all you need to know to clear the IAS exam.
For starters, it can be quite overwhelming. How to naviagte acorss the vast ocean of topics mentioned inthe UPSC syllabus? Where to start from? Which books to read? Which topics to cover first?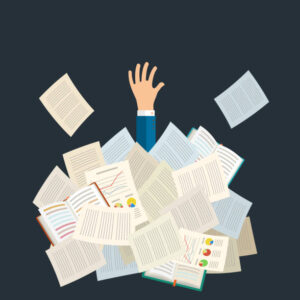 The good news is that the starting steps for covering the syllabus of the USPC have been super-simplified in the UPSC syllabus challenge.
Round 1 of the UPSC syllabus challenge is explained below-
The UPSC Syllabus Challenge
The UPSC syllabus Challenge consists of 2 ROUNDS.
These rounds are a lot like charting the territory of a vast area from a height.
Think about the UPSC syllabus challenge as taking a helicopter ride over the big ocean of the syllabus which you have to swim across.
Your helicopter is the GOOGLE search bar.
The only things you will need are an internet connecetion and a stopwatch.
ROUND 1: 'The Blitz'
RULE 1: Google search EVERY KEYWORD mentioned in the UPSC syllabus, one by one.
RULE 2: You have only 6 MINUTES for every search.
RULE 3 : You CANNOT CLICK ON ANY LINK on the search page.
It doesn't matter what you Learned from that search, you have to quit the search after 6 minutes and begin a new search.
If you follow the same procedure, I promise that you will have never look at the UPSC syllabus in quite the same way again
STEP 1: Set your alarm clock or stopwatch to ring EVERY 6 minutes.
STEP 2: Google search the keyword in the google search engine for example- 'INDIAN CULTURE'
Just LOOK at what there is in front of you for a few minutes. But remember Rule 3 and DO NOT CLICK ON ANY LINK.
STEP 3: Click on google images
Take a visual tour of Indian culture before you dive in to learn. SEE what the Searched topic is about.
The Google images page shows a beautiful collage of Indian culture. There are dances, designs, architecture and festivals.
STEP 4: Click on Google NEWS
Take a quick look at what's happening around this keyword. You see some interesting things related to Indian culture which have made it to the news. Get an idea about why that search word was in the news.
Let your curiosity grow WITHOUT CLICKING on any of the links otherwise you will get lost in the ocean of websites and lose the challenge.
At the very least, you will get to know what kind of debates and questions are occurring around that topic.
STEP 5: STRIKE OFF the Keyword or topic you have finished and move on to the next one which could be 'Indian History' or 'Environment' or whatever.
In these 6 minutes, Indian culture struck me as a vibrant, colorful, beautiful and full of variety. Also as one of the the reason I find India to be a very interesting place to live in.
in 6 minutes you can get a very general 'feel' of the topic. This is what we want to do for the whole syllabus.
Let the big picture sink in.
Repeat this process for EVERY KEYWORD in the UPSC syllabus.
If you stay disciplined and follow these steps you will complete ROUND 1 in a few hours.
You can read about Round 2 of the UPSC syllabus challenge in detail here.
How to write answers and essays for UPSC mains syllabus
While the questions are essay-type of different word lengths , what ALL questions in mains syllabus have in common is that they are looking for some specific qualities in your answer.
The UPSC judges your answer on some fixed criterion such as-
What was the depth of your understanding of the topic?
Did you identify the Core of the issue?
How many different perspectives did you appreciate?
Did you consider all the stakeholders in your answer?
How well informed were your opinions about the topic?
How balanced and well-reasoned were the reasons for your opinions?
In a nutshell, the Quality and depth of your answer determines the score you get.
You can read about writing superb answer-essays here.
Hidden Costs of the IAS exam
Attempting the UPSC exam as a serious contender comes at considerable costs and you should know what they are.
Before you apply for the IAS exam, consider these questions-
What are the costs involved?
Why do you really want to do this?
What your real interests are?
What the job really is like?
Are you a good fit for the job? Will you be happy once you get it?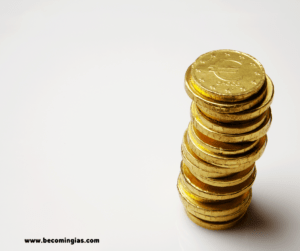 For a typical candidate, the total FINANCIAL COST for 2 attempts is roughly Rs 10,00,000 or Rs. 10 Lakh.
A detailed analysis of financial costs, emotional costs and time-costs of attempting the UPSC exam can be found here
CONCLUSION
The UPSC notification is not just a formal document that inertly dispenses information about the examination.
The UPSC syllabus also tells you what you need to DO and BE LIKE to clear the IAS exam and become an IAS officer.
If you wish to take the plunge and try to attempt the exam, you will spend a lot of time in the preparation process.
You might as well have as much fun with it as possible. And it can be made enjoyable!
After all, life is too short to be miserable.
So, Is applying for the IAS exam worth it for you?
The only person who should ask this question is you. The only person who can answer this is also you.
Knowing the costs involved is the first step in that direction.
You can choose your own path during the UPSC preparation journey. You will probably make many mistakes but will ultimately get to your goal.
Or you can learn from my mistakes and use the methods listed in this article which have been tried, tested, curated and analysed.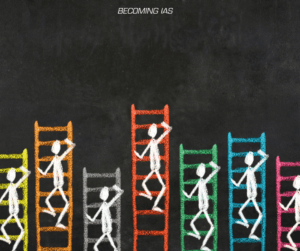 They are designed to be better, less expensive, more effective and faster.
You can Clear the IAS exam WITHOUT coaching institutes AND while continuing your job.
It is not easy, but it is entirely doable.
And you can do it. The only question is- Are you going to?
I hope this article has answered some of your doubts and that you found it useful.