In the UPSC mains, as in life, If you do what everyone does, you will get what everyone gets. As a matter of fact, almost everyone gets average marks in the Essay paper.
Only a few exceptions get much more or much less than the average score in the UPSC mains exam. Obviously, you are interested in getting much more and land in the topper-zone shown in the graph. You want to be the exceptional candidate who ends up scoring 70-80% marks in the Essay paper that year.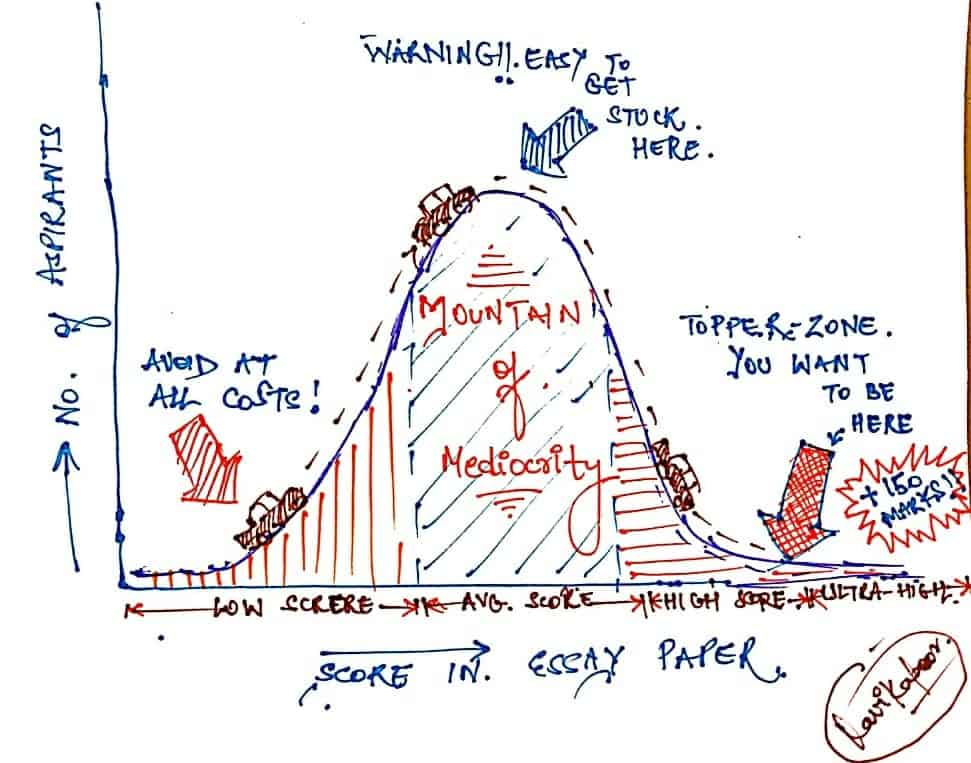 But if you make the same mistakes which everyone makes, you will not reach that exceptional score and will remain stuck in the mountain of mediocrity.
Common mistakes lead to common outcomes.
So, before you understand what you must do to get a super-high score in the UPSC mains exam, you must learn what NOT to do.
Here's your video tutorial for this lesson:
MISTAKE 1: Being confused about the type of Essay to write in the UPSC Mains exam
The two types of Essays which are critical for you to distinguish are – personal Essays and Analytical Essays.
Personal Essays as you might have guessed, are about you. While applying to Colleges, personal Essays are sometimes part of the application.
Some Examples of personal essays are-
"What were the most defining moments of your life and how did they change you?"
"Who is your role model and why?"
"Where do you see yourself 5 years from now?"
"Why do you think you are a good fit for XYZ college?"
The purpose of personal essays is to get a glimpse inside the mind, intentions, character and personality of the essay-writer in order to judge or evaluate their fitness for something – a college program, scholarship or job.
And therefore, the way to approach personal essays is to try and share information about oneself and to try and convince the reader about one's suitability.
This is the exact opposite of what you should do in the Essay paper of the UPSC mains exam.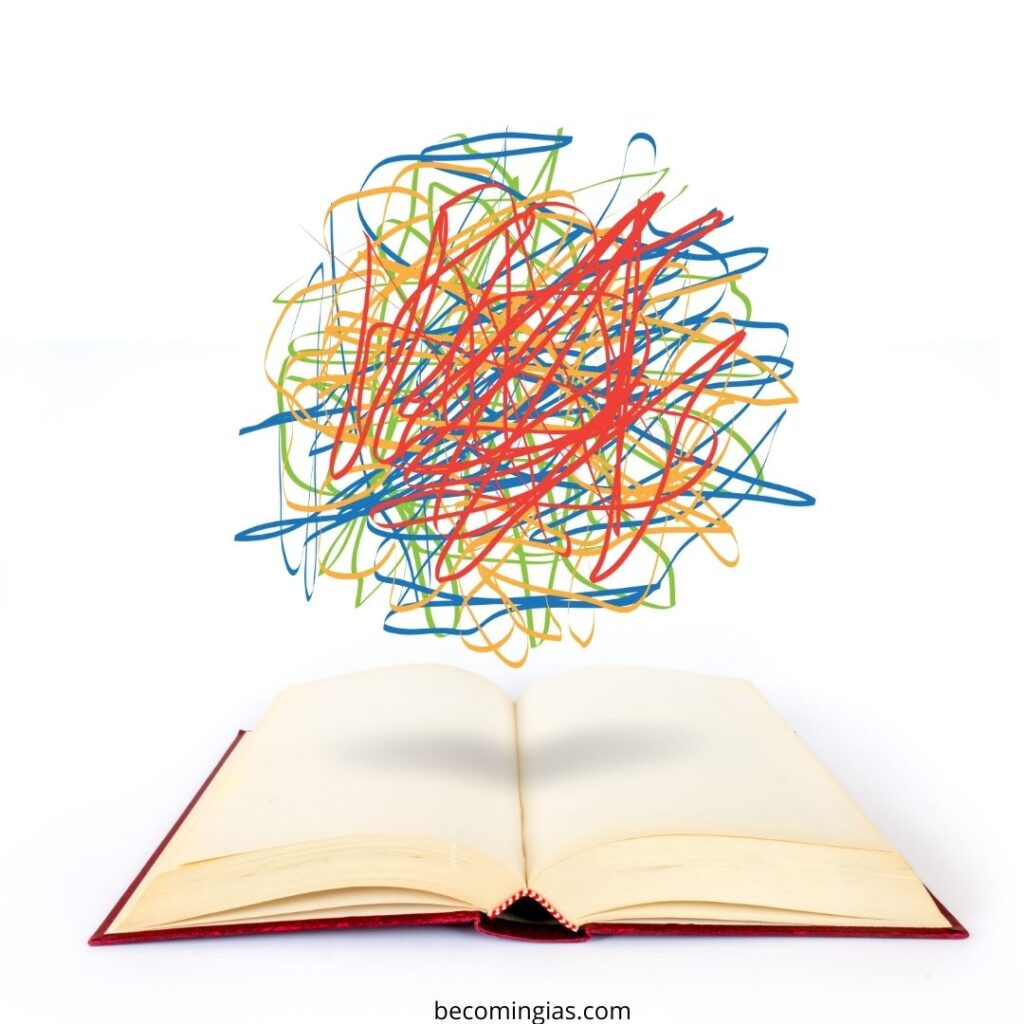 The Essays which are asked in the UPSC exam are analytical and argumentative types. That means that they are NOT about you and you should therefore abstain from sharing any personal information whatsoever.
The purpose of analytical essays is to judge your intellectual capacity for reasoning, logical consistency, organized thinking and concise expression.
Note that analytical essays can include all kinds of topics such as- philosophical or Ethical, scientific or socio-economic.
The Essay topic could be about Sports, Technology, Cinema, crime or cooking but you, personally, are not to become part of the narrative of the Essay.   
MISTAKE 2: Using anecdotes in impersonal Essays
See mistake 1. An anecdote is you reciting an experience of yours to relate to a point or as an example of something you wish to express. It is personal information. Avoid using personal anecdotes.
You can read about the biggest blunder I ever committed by in this article.
MISTAKE 3: Using unnecessary poems and quotations in the UPSC mains exam
It is a common misconception that your Essay should be poetic and romantically expressive in order to be good. This couldn't be farther from the truth. Poetry is a form of literary art where words are used in creative ways with focus being on the subjective experience of the reader or the writer.
Appealing to emotions and feelings adds no weight to your arguments in the Essay and therefore, does not give the examiner any reason to give you higher marks.
Adding quotations will not add much value to your Essays because the examiner is interested in knowing what you have to say about a topic, rather than someone else.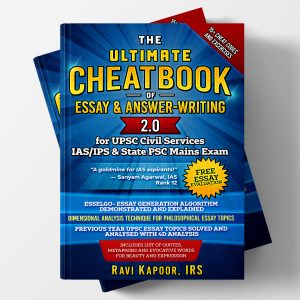 Moreover, you should not have to quote someone famous in order to make your point in the Essay. Which is to say that if your arguments are powerful and logically consistent, they will have the effect of impressing the reader regardless of what Pt. Nehru or Mother Teresa once said about it.
Sometimes Quotations are used to gain credibility, but it is much easier to gain credibility through factoids and data from credible sources.
A quotation is one person's isolated comment on one thing. Without knowing the context around which it was said and why it was said, it is impossible to interpret the intention of the speaker accurately.
So, you should avoid wasting time memorizing quotations about a topic and use the time to develop arguments and counterarguments instead which will prove much more valuable for the UPSC mains exam.
MISTAKE 4 : Not realizing that timed essays are different from untimed essays
The experience of writing an Essay in the exam versus writing one in your study room are very different, to say the least.
The examination experience is much more stressful, time-bound, chaotic and unfamiliar than your home.
You should know that your experience of time is dependent on the kind of situation you are in. Have you noticed how time seems to fly by when you're on a vacation and how it slows to halt when you're meditating?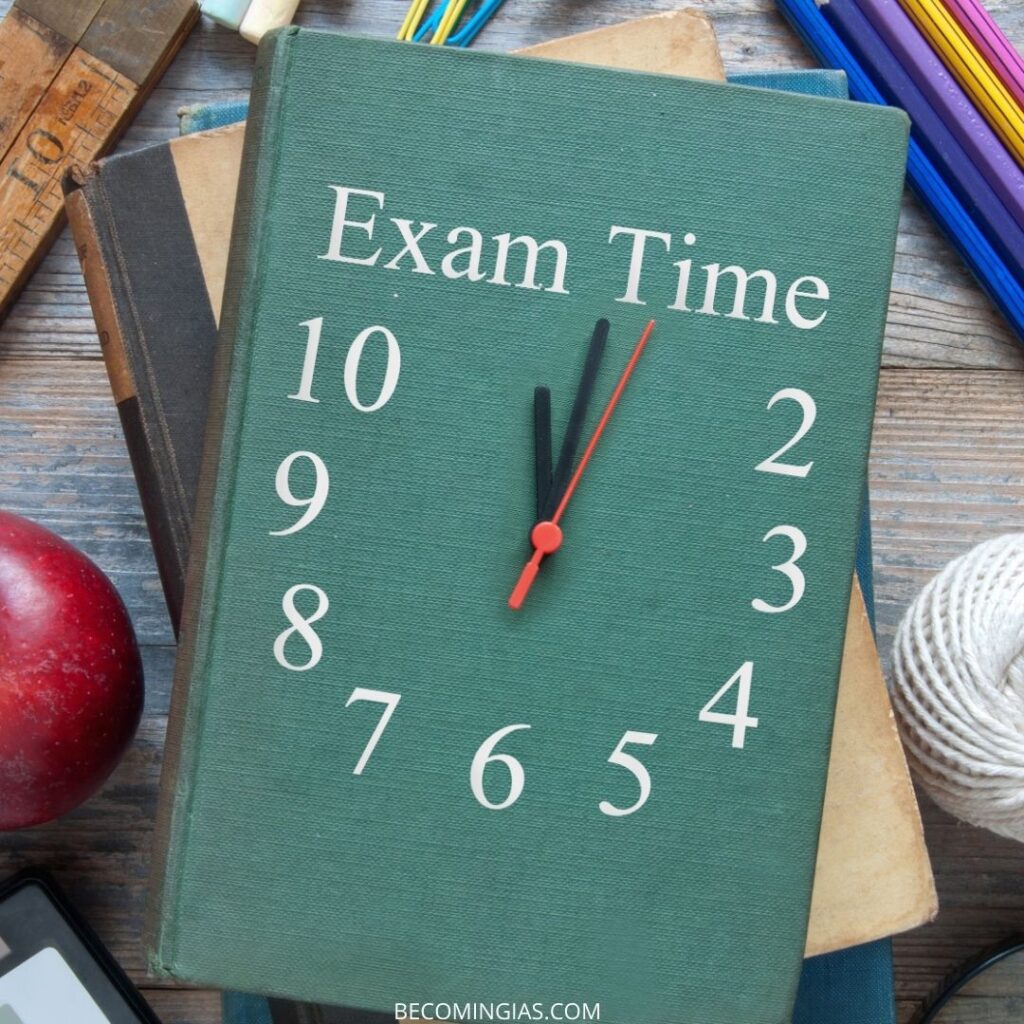 Preparing for a timed essay is very different from preparing for an untimed one.
If your professor asks you to submit an essay within a week's time, you can mull over the topic and take your time to formulate your arguments.
The UPSC, on the other hand, will ask you to write not one, but TWO essays, on unfamiliar topics within three hours in the UPSC mains exam. You can learn how to optimize your time-resources on Exam-day by learning more here.
MISTAKE 5 : Choosing the wrong topic in the UPSC mains exam
A sure shot way of getting stuck under the mountain of mediocrity or worse.
Choosing well is important in the UPSC mains exam because-
Your strengths and weaknesses are different from others and so the best choice for you is likely to be different from the best choices of others.
Decision paradox can kill your time and cause confusion.
Not choosing well may cause interference and distract you later during the IAS exam.
A bad choice of topic is irreversible once you start writing on the answer sheet.
A bad choice becomes obvious half-way through the exam when you run out of points and are forced to repeat the same arguments over and over again.
The structure and flow of your answer or essay will suffer.
This will be spotted by the examiner and you will loose marks.
A good choice of essay topic can boost your score by up to 40%.
The good news is that I designed exactly such a tool called the DECISION MATRIX.
DECISION MATRIX is a series of weighted scores which reflect your proficiency level on a given topic.
You have to give a score of 0-9 to each of the 8 questions, for every topic under consideration.
Your ratings will give you a score which will tell you how good your choice of topic is.
The topic with the highest total score is your best choice. Or the most well-prepared topic.
The higher you score on the Decision matrix, the better your choice of topic is.
Be brutally honest in your ratings. No one will judge you based on these scores.
But not to worry, the Decision Matrix will ensure that you never fall into this exam-trap.
Compare the following sentences-
Sentence 1: "The exam was failed by over one half of the candidates"
The action is performed upon the candidates (subject), which means it is indirect and therefore a passive sentence.
Sentence 2: "Over one half of the candidates failed the exam"
The candidates (sentence subject) perform the action, which means it is an active voice.
Active voice is more concise than passive voice because it takes fewer words to express an action and the meaning is conveyed directly.
Sentences written in the passive voice tend to be too wordy or lack focus. In the UPSC mains exam, less is more. Since you have a limited word count, avoid using passive voice.
MISTAKE 7 : No Pre-writing in the Essay paper
Whatever you do before you begin writing your Essay on the answer-sheet is Pre-writing. It includes brainstorming, thinking, choosing, Rough work, bulleting points, drawing diagrams or mind maps.
As you will learn in upcoming chapters that Pre-writing is the most vital part of Essay-writing and not doing it is equivalent to committing a blunder.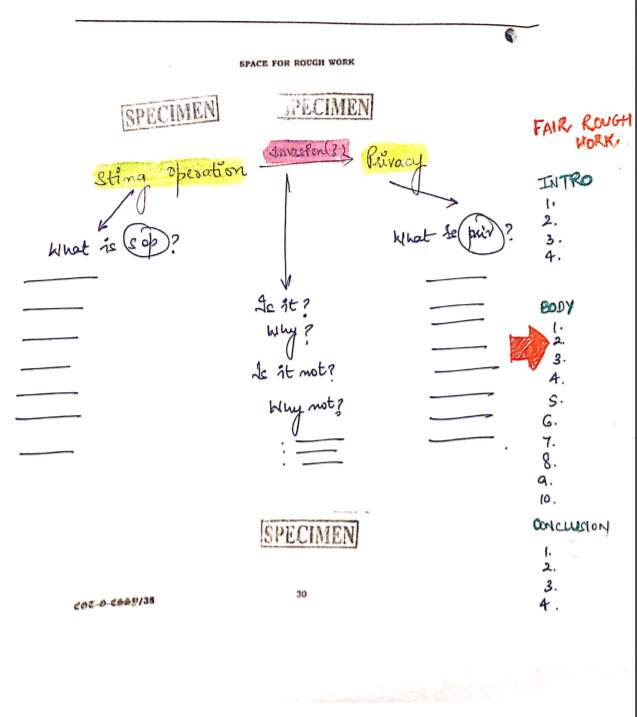 MISTAKE 8 : Not understanding the heart of the Essay topic
This is the fundamental mistake from which the rest of the mistakes emanate. In other words, if you do not have insight into the core issue of the Essay topic, the resulting Essay will be of mediocre quality.
You can use the Deconstruction technique to get to the heart of any essay topic in 60 seconds or less.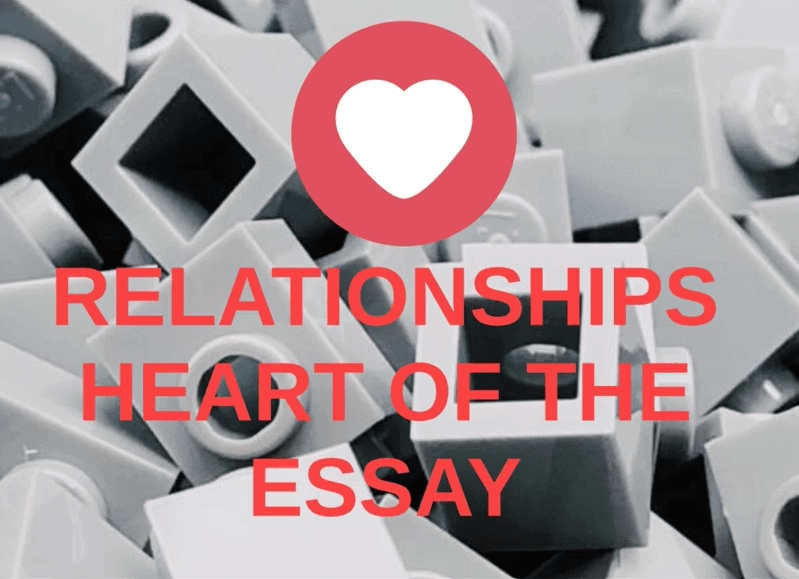 MISTAKE 9 : Repetition and redundancy in the UPSC mains exam
Avoid repetition even if it is in different words. This means that the same point should not be repeated even though with different words.
Note that the two sentences above are an example of repetition. Any one of the sentences would have sufficed.
Note again, the same mistake with the two sentences above.
MISTAKE 10 : Formatting errors
Leaving some space between paragraphs illustrates a transition in your writing and provides a break between consecutive arguments or points. Since this is a paper-and-pen test, you must ensure that your paragraph spacing is adequate to produce the desired effect.
You will find that the Strategic Smart Spacing and SOS cheat codes in the Ultimate Cheatbook exploit this spacing to gain additional marks.
Bulleting and numbering should be avoided. The essay is a formal piece of writing where you are expected not to deploy short-cut methods to organize your information like bulleting and numbering.
Instead, you should use connecting words to organize and structure your essay. Further in this book, you will find a chapter dedicating to Connecting words and some powerful cheat-codes on how you can use them optimally in the exam.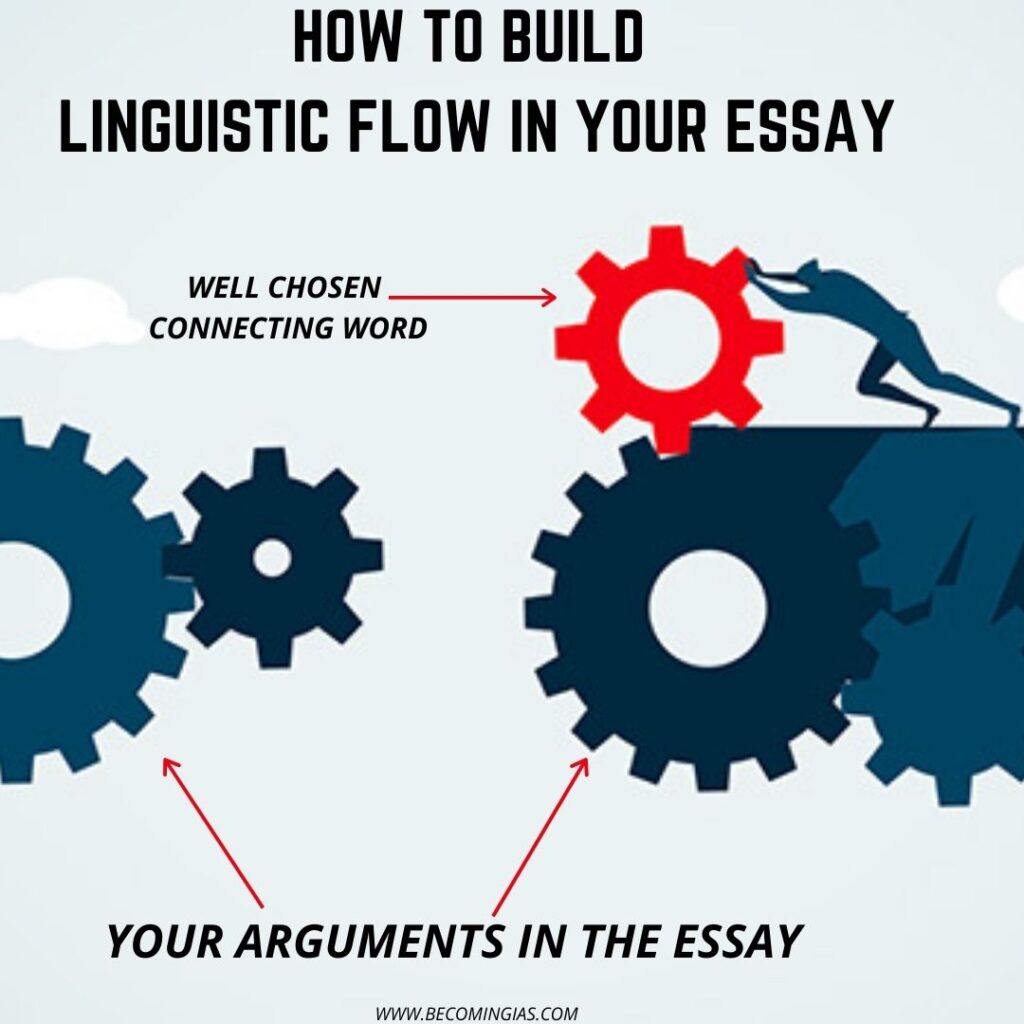 MISTAKE 11 : Focusing on grammar more than content quality
While grammar is important, the quality of your arguments and clarity of expression, will fetch you high marks in the exam.
Grammar is important in it's own right  but it should not come at the cost of substance. If you think  your grammar and command over language is not that great, then you should try to eliminate the need for grammar. And one way to do that is to use really short sentences. All in active voice.
MISTAKE 12: Not revising and reviewing answer-sheets
Contrary to popular belief, reviewing revising is not a re-reading of your Essay or for underling important points. It is golden opportunity to avoid blunders, correct mistakes and even boost your score by as much 20%.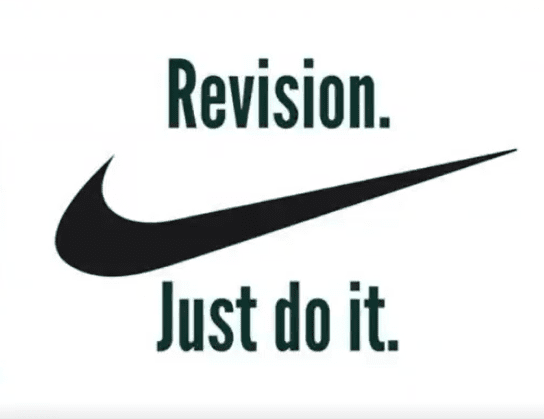 What all essay topics in the UPSC exam do share is that they require analysis and logical arguments, something which has been covered exhaustively in The Ultimate Cheatbook for Essay & Answer-writing.
ASSIGNMENT
Your assignment is to analyze the following writing-sample from one of my students :
TASK 1: Spot and list which of the 12 mistakes may have been committed in the passage above AND list your suggestions for improvements.
TASK 2. Re-write and improve this passage in about 200 of your own words with your suggestions embedded and the mistakes removed as much as possible.
Do this exercise honestly and diligently. Spend some time arranging and re-arranging the words in a way that your sentences flow better and the passage becomes easier and more pleasing to read.
You will have to Edit your draft AT LEAST THRICE before a good structure emerges but do not shy away from the hard work.
It will make ALL the difference.
All the best!
Ravi Kapoor, IRS